How Self-Sustaining Design is Changing the Face of Eco Convenience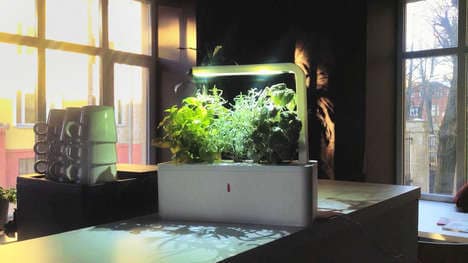 Convenience is key to most consumers when it comes to everyday products, which is an area where self-sustaining design is making a name for itself as a revolutionary means to grow a variety of fresh goods. As homes grow smaller and residents of traditional dwellings move into high-rise complexes, there's a distinct disconnection from the Earth as well as any means to grow their own food. A self-sustaining product design allows consumers to essentially set it up and forget about it; the designs are overwhelmingly self-sufficient and can even have regulated watering cycles to ensure rapid growth.
The concept of self-sustaining design isn't just something that is reserved for consumer products, but rather is expanding into all areas of life that make it a powerful characteristic. Trend Hunter's PRO Trend
Self Solar
identifies some of the key ways that solar power is being utilized in a variety of different methods that were previously impossible. Solar energy is an optimal source of energy because of its renewable nature, which makes it a prime means to power everyday items that in turn makes them relatively self-sustaining. Aside from consumer products that are powered by solar energy, self-sustaining design is being adapted in another aspect of our culture that makes it a powerful concept.
Housing is a crucial element for economies around the world and more designers are opting for more eco-friendly alternatives than ever before when it comes to architecture. If housing is self-sustaining, then the level of convenience can rise dramatically because there is a decreased need for outside resources. Trend Hunter's PRO Trend
Geothermal Design
touches on this notion of self-sustaining architecture and how we're seeing a greater number of properties the world over being erected with eco advantages built-in. It's these advances that are creating more savvy consumers that are becoming more discerning of their choices and require a stronger approach than ever before.
When it comes to keeping a pulse on eco-friendly design and technology, it can be relatively difficult because of the rapid rate at which the field is moving, but Trend Hunter's
Eco Trend Report
condenses the latest innovations into one area for quickly identifying the key ideas at work.