What's Old is New Again: Using Nostalgia in Product Design to Create Positive Association
Related Trend Reports
Art & Design
,
Commercials
,
Computers
,
Design
,
Gadgets
,
Games
,
Hip Fashion
,
Life Stages
,
Luxury
,
Media
,
Mobile
,
Pop Culture
,
Toys
,
Ultra Luxury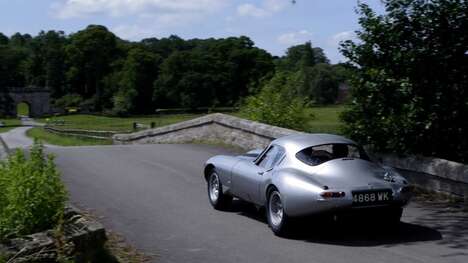 Using nostalgia in product design has long been a strategy by brands hoping to appeal to customers through emotion and sentimentality. One of the reasons nostalgia works in selling is that it elicits a pleasurable feeling, especially when a person is sad or stressed, as the nostalgic item or advertisement brings back memories of a better time. University of Cologne's Dr. Filippo Cordaro, who is a researcher of nostalgia and consumer decision-making, says, "On a basic level, recalling these positive memories simply puts us in a more positive mood. On a more complex level, recalling these experiences makes us feel a stronger sense of social connectedness with others."
Thus, brands have continued to use nostalgia in product design to capture the attention of customers who tend to reminisce about past decades, whether it's the '40s or the '90s, and who feel a sense of social belonging when consuming or seeing nostalgic items. Over the last couple of years, a surge in retro products -- think classic Nintendo game consoles, cassette tapes, Wayfarer sunglasses, vintage-feel photography, and fashions that draw influence from past eras -- has arisen in the marketplace, as Generation Y and Millennial consumers (currently the largest consumer group in the world) increasingly embrace items from their childhoods, namely the 80s and 90s. Indeed, the purchase of such retro-inspired products is often associated with "hipsters," a growing subculture among the Millennial generation that defies mainstream consumption and loves to go against the grain.
The number of brands going retro these days is remarkable, and the modern technology tie-ins to old school products are even more so. For instance, Trend Hunter recently featured an iOS docking station, called the
GameDock
that can be converted into a traditional gaming console, as well as a
wooden iPad stand
that mimics the look of an old school television. Perhaps one of the best examples of mixing old with the new is the social photo application Instagram, which allows novice photo takers to alter their images with a vintage feel, essentially "antique-ing" the photograph, a feature that is likely one of the reasons for the application's astounding success in the mobile apps world.
We've also seen other non-tech products and designs taking on quirky retro themes, for example, coasters that look like floppy disks and notebooks that take the shape of classic VHS tapes, such as those by
Peleg Designs
. Recently featured was the work of designer Margaret Howell, who created a collection of furnishings, the 2012 Home Product collection, with a post-war, vintage feel.
Fashion as an industry is always looking backward for inspiration, with a number of collections and editorials taking cues from past eras, such as the '20s, '50s and '60s. For instance,
DSquared2's Fall/Winter ad campaign
was influenced by the 1960s, the
'I'll Take You There' editorial
in Cosmopolitan Australia featured looks inspired by the 1970s, and the menswear runway show for Balenciaga's Spring/Summer 2013 collection featured looks with '80s-inspired prints and silhouettes.
The use of nostalgia in product design has similar underpinnings to nostalgia in advertising, but since products are actually used by a person, they stand to create a stronger emotional association. At any rate, using retro inspirations in design is not limited to any particular industry, as we've noted above, and so brands of any nature can apply nostalgia to their own offerings to create positive brand associations. Find out more about retro products and nostalgia marketing in Trend Hunter's
Games Trend Report
,
Design Trend Report
and
Fashion Trend Report
.