Make 'Em Laugh: Using Humor Within Niche Product Marketing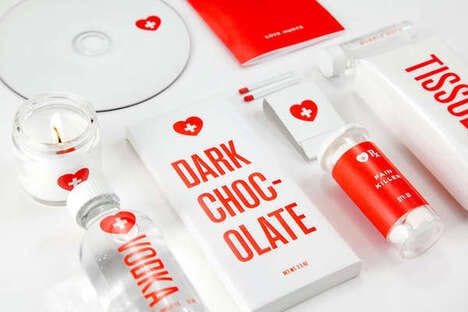 There are a variety of ways to go about niche product marketing that will equal any multitude of responses, but utilizing humor within a campaign can be an effective means to connect with consumers on a more personal level. It's important to identify what specifically about a product can be joked about with a consumer, but also keeping respectability in mind to not come across as a crass brand.
We're seeing a strong influx of gift basket-like sets coming about, which compile niche products into custom-tailored packages; some of the most fetching designs are highlighted within Trend Hunter's PRO Trend
Kit Culture
, which explores this notion of quick, all-in-one solutions. What's palapable with several of the products listed including
Man Crates
,
Love Hurts by Melanie Chernock
and the
Gentleman's Survival Kit
is that while the goods within are indeed of high quality, they entice the customer using humor. Man Crates are stereotypically designed to be chock full of manly essentials, which is also the case within the Gentleman's Survival Kit, whereas the Love Hurts by Melanie Chernock package makes light of heartbreak.
The above-mentioned products are marketed in a rather tongue-in-cheek manner that both solves a problem, but does so in a comical means. We're seeing this additionally with Trend Hunter's PRO Trend
Sarcastic Sentiments
, which highlights some rather risqué products that are getting noticed for being a little crude. The niche product marketing at play includes tapping into youth culture with goofy pokes or being cheeky to get the attention of boomers.
Staying innovative in the modern economy is essential to keeping a competitive edge and Trend Hunter's
Marketing Trend Report
can help identify key, of-the-moment concepts, so check it out for more information.