Effectively Marketing Organic Products by Highlighting Simplicity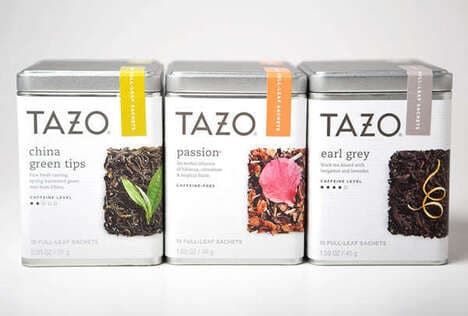 The market is packed with products that boast a variety of different features, but the way that marketing organic products is approached can have a major effect on the kind of response that is garnered. Organic products are those created without the use of pesticides, insecticides or genetic modifications, which in itself breathes an air of natural bounty. As such, finding the best route to market an organic product is best suited to highlighting the simplicity of the final product.
Tazo Tea
is a renowned organic tea brand that many will recall as being the signature brew that Starbucks carries and it recently underwent a rebranding that switched up the traditional packaging. What's noticed first about the Tazo Tea packaging is the streamlined silhouette, white color scheme and focus on natural photography; the tin or box isn't hard to get into, the focus on white conjures notions of purity and the pictures of the ingredients before manufacturing creates a bond to that of the natural. Tazo took a chance with the new packaging, but it now stands as a prime example of organic product packaging done right.
Linking back to the above notion of getting back to basics, we're beginning to see more consumers who appreciate and enjoy the look of more simplistic products. Trend Hunter's PRO Trend
DIY Ready Made
touches on this concept of how there's a move towards more hands-on products that require completion. As such, this rustic packaging – like using a Mason jar to hold the ingredients for a baking recipe – can be capitalized on by brands looking to market organic products.
Marketing organic products can be tricky, which is why effectively knowing the likes and dislikes of your customers is key. Trend Hunter's
Marketing Trend Report
details on the latest ideas at work around the world to help spark creativity.