How To Maintain an Innovative Office Culture While Expanding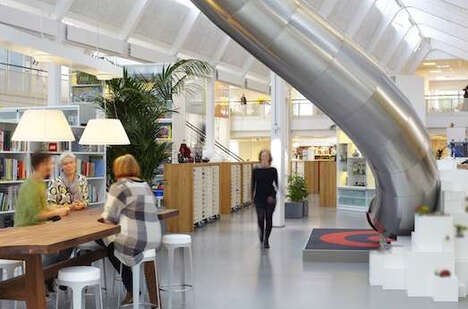 Expansion is an exciting prospect when it comes to businesses, but how can leaders maintain an innovative company culture in a large-scale company? Start-ups are notorious for maintaining unique and open environments that facilitate communication and teamwork. It can be tricky to maintain this same kind of feeling in a larger scale company, but it certainly can be done.
The physical layout of a workspace can play a huge part in developing and maintaining company culture. LEGO, though a huge company, keeps their employees creative by facilitating a play-like environment. Its
Denmark office
gained particular attention for its playground-inspired layout, complete with a slide. Aside from the actual slide, the layout of the office made it an extremely bright and open place to work. Putting employees first in this way increases morale and, in some cases, can even generate more attention to your brand. The LEGO office may have been a hugely expensive architectural project, but there are small ways in which managers can create a more inviting workspace. Simply making the workplace more livable and comfortable, whether it be through design or services, has a huge impact on employee morale.
Aside from aesthetic changes to an office layout, innovative company culture can be kept alive by continuing with regular social events and traditions that bring employees closer together. This can work well in a big company, where smaller groups or departments can have their own events. Google's company culture is
famously casual
, and is always ensuring that employees feel like a family. Avoiding a hierarchal feel to the workplace is reinforced by events that encourage employees to openly share ideas and work together.
Another way in which Google and similarly innovative companies have motivated employees is by treating and privileging employees based on performance. Google is particularly well-known for taking good care of their employees in terms of health and mind, and offer in-office massages and nap pods to ensure that its workforce is taken care of. There are smaller scale ways to show employees that you're invested in their well-being, like offering them the option to make use of more comfortable
ergonomic seating.
Though this may seem like a small gesture, little details like this can go a long way in terms of keeping employees happy and feeling appreciated.
For more information regarding employee morale and innovative company culture, check out Trend Hunter's
Design Trend Report
and
Business Trend Report
.