The Art of Rebranding: Tips for More Effective Logo Redesign
Related Trend Reports
Art & Design
,
Branding
,
Business
,
Computers
,
Design
,
DIY
,
Internet
,
Lifestyle
,
Luxury
,
Marketing
,
Media
,
Pop Culture
,
Print
,
Retail
,
Tech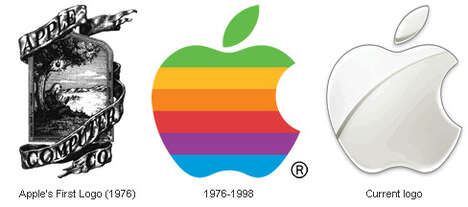 One of the goals of any rebranding move is effective logo redesign, but creating a new logo can be very risky. A company's logo is perhaps one of the most, if not
the
, most important part of branding since it is one of the first things a consumer thinks of when a brand is mentioned. When done poorly, a new logo design may mean the difference between people maintaining their brand loyalty or choosing another company. Avoid the latter situation by considering these tips for effective logo redesign:
Maintain Meaning
. Successful brand logos possess meaning; they represent the brand in a way that is appropriate and relevant, making it easier for customers to understand and grasp the nature of the brand. Disney's looping font, for example, translates the company's magical feeling, and Nike's checkmark visually communicates the brand's 'Just Do It' attitude. Another example of an effective logo redesign that conveys meaning is Amazon's: The company's revamped logo in 2000 by agency Turner Duckworth maintained Amazon's brand identity while adding a "smile" in the shape of an arrow that points from the letter 'a' to the letter 'z,' communicating that Amazon sells everything from "a to z."
Gain Customer Perspective
. Your biggest fans can become your worst enemies when you implement a logo redesign without considering your customer's perspective and opinion.
Gap
, for example, learned this the hard way in 2010 when it completely overhauled its logo -- taking away the iconic blue box housing the word 'Gap' -- only to receive angry comments from online fans. In a case like this, customer perspective prior to launching a logo redesign can make all the difference. (Gap has since reverted back to its old logo.)
Be Consistent
. Drastic changes in image and font, or revamping a logo to reflect new trends, can be detrimental to a rebranding strategy as it may confuse customers and take away from the brand's original meaning. Google is one brand that has maintained consistency throughout its rebranding efforts, keeping its font and colors more or less similar. What's more, Google's applications are consistent with the Google brand as well. As Hubspot writer Rachel Sprung says, "...the different logos closely resemble each other, so it is recognizable that they are all part of the same company."
Don't Over-Simplify
Although some of the best brand logos are very simple (think Apple, Nike, Target, etc.), simplifying a tried and true logo that customers recognize isn't always the answer. While a brand's intention is to make its logo more elegant, or in Starbucks' case, to symbolize the brand's expansion into products aside from coffee, this can backfire.
Starbucks
removed the text from its cups, leaving only the simplified image of a siren, which Gary Stibel, CEO of the New England Consulting Group, says can lead to confusion because unlike Apple's logo, Starbucks' siren doesn't visualize the company's name. He says, "There are places in the U.S., and many places around the world, where people don't know the Starbucks name." Another example is Pepsi's continued simplification of its logo, which is now a very basic ball with Pepsi's red, blue and white coloring. A far cry from the brand's original 'Pepsi-Cola' text logo, the latest logo has been described by some to look like a fat belly.
As brands adapt to the changing marketplace and consumer tastes, rebranding and logo redesign decisions will inevitably arise. To uncover more effective logo redesign examples and strategies, make sure you access Trend Hunter's
PRO database
and download our
Branding Trend Report
.