Taking a Campaign Rogue with Street Art Advertising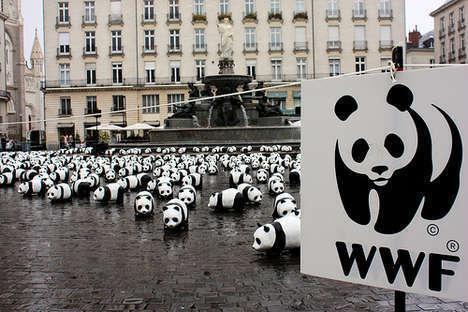 Advertisements are everywhere in modern metropolises, which is why setting a campaign apart from the rest can be effectively done by utilizing street art advertising to create a subtle yet effective approach that's more in-tune with urban life. Street art advertising can encompass everything from hand-painted billboards to full-force graffiti that is connected with a brand. What's important to remember is that approaching a street art advertising with respect is key to garnering the right kind of attention.
Moving on to ways that street art advertising can be utilized, Trend Hunter's PRO Trend
Brandalism
talks directly about what's going on with regard to mainstay brands that are experimenting with different types of graffiti or culture hacking. An exquisite example of a company taking its message to the streets is the World Wildlife Foundation's (WWF) campaign entitled '
1600 Pandas
.' The stop-and-stare installation featured 1600 papier-mâché figures to represent the number of pandas left worldwide. The campaign garnered significant coverage on a global level and left a lasting impression regarding the urgent nature of the situation.
Backtracking a little bit on the graffiti notion, it's important to note that street art advertising can yield positive benefits because consumers are more familiar with the art form than ever before. Take Trend Hunter's
Organized Graffiti
, for example; it details how the underground artwork is permeating aspects of our culture in ways never before imagined. Hence, drawing inspiration from the form and evaluating street art advertising as a marketable approach can help get in contact with customers in a fresh manner.
Check out Trend Hunter's
Billboard Trend Report
for more ways that advertising is shifting and evolving in the modern age.