Capitalizing on Pinned Promotion: Using Pinterest For Business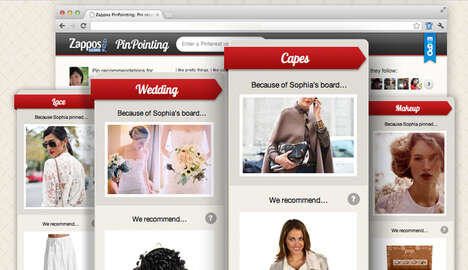 With its booming popularity as third most popular social networking platform, learning to use Pinterest for business has become quintessential.
Boasting unrivaled success as the fastest growing social network, Pinterest has created vast opportunities for business to capitalize from the idea of online consumer-tailored clusters or "Pin Boards." According to
Co. Design
, Pinterest CEO Ben Silbermann explains that the popularity of his vision is based on personalization as virtue; he says, "You should feel like you've walked into a building full of stuff that only you are interested in. Everything should feel handpicked for you."
Keeping the ideal of cohesive bespoke-interest in mind, it becomes apparent that data collected from this online source can be utilized to benefit business. For instance, one can use Pinterest, among other social media networks, to define brand identity.
Connecting with clients through Pinterest can give certain woman-focused brands an edge as it can allow them to engage with tailored content to their target audience (namely, a female one). The advantages of instant feedback to this content are invaluable. With re-pins and likes, a business is able to gain additional exposure and draw in other like-minded consumers.
A case study of successful capitalization on the Pinterest phenomenon is seen in
Personalized Pin-Based Retail
. Online retailer Zappos has created a third-party application that utilizes data from consumer pin boards to provide with suggestions on goods of interest. These product recommendations are exemplified with the 'Featured Pinners' feature that allow consumers to purchase directly from curated content by key influencers such as largely popular reality star Lauren Conrad.
In sum, Pinterest has become a virtual storefront that is responsive in its approach to consumer-brand interaction. From building an image, to identifying key consumers, Pinterest can give brands a voice like never before if used correctly. Exploiting this social media platform is highly beneficial to the right business. Trend Hunter's
Branding Report
delves into a variety of social media networks (including Pinterest) and highlights some of the more insightful ways to use these tools.