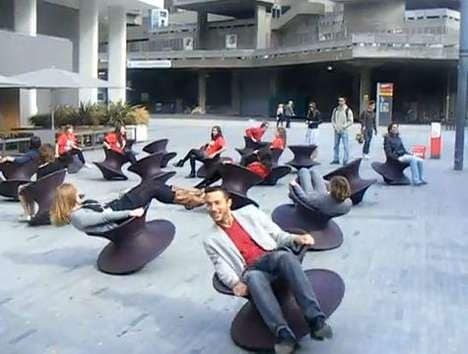 Today's customer engagement strategies range from flash mob frenzies to interactive billboards. While there are many methods companies use to attract consumers, one tactic is becoming prominent today: encouraging play. Tim Kreider, contributor to the New York Times, states aptly in his recent article The 'Busy' Trap how many Americans are obsessed with business, with little time for themselves. People have become used to this on-the-go lifestyle because "they're addicted to busyness and dread what they might have to face in its absence."

With many consumers faced with this daily angst and constant feeling of inadequacy when relaxed, this gives marketers the opportunity to help relieve some of this tension. For example, artist Thomas Heatherwick found a great way to encourage customers to interact with his design The Spun Chair. The objects were placed outside in London's Southbank Centre Square, where passersby could interact with the installation. Heatherwick managed to increase customer engagement by bringing out the playful nature of his design, and turning the street into an outdoor adult playground.

A more subtle and witty form of using play for customer engagement comes from the site Fishs Eddy. This online store offers dishware with quirky sayings filled with attitude and designed to make customers laugh. Examples include plates labeled 'Big Mistake' and cups encouraging users to 'Look Alive.' Completely sarcastic and aimed to lighten up the mood of any buyer, these blunt pieces of dishware encourage lighthearted humor, which is perfect for stressed-out individuals.

Using play as a customer engagement strategy gives businesses leverage, as offering a moment of relief from busy schedules helps to create a connection with consumers. By providing opportunities for consumers to have fun and relax, businesses can help fill this much-needed void of a stress-free environment.

Trend Hunter's Interactive Trend Report gives businesses a better understanding of how to increase consumer engagement strategies through this method, and forge stronger bonds with customers.
References: trendreports and contemporist