6 Benefits of Pop-Up Shops
Related Trend Reports
Architecture
,
Art & Design
,
Branding
,
Business
,
Credit Crunch
,
Design
,
Food
,
Home
,
Lifestyle
,
New Ventures
,
Publicity Stunts
,
Retail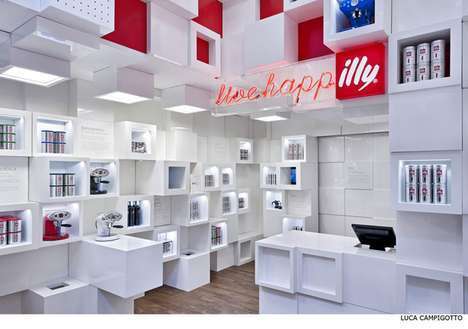 Temporary retail establishments have been growing in number, popping up on street corners, in shopping centers, at events, in airports and more, as more brands begin recognizing the benefits of pop-up shops. There are a variety of pop-up stores, ranging from modular retail establishments to those housed in shipping containers; regardless of the format, there are several advantages in setting up a pop-up establishment:
1)
Affordability
. Because pop-up shops are often temporary in nature and smaller in size than conventional retail stores, the cost of rent is usually lower. This is especially advantageous for new businesses that don't yet have the funds to lease a more traditional retail space and, if necessary, have the option of closing down the temporary location to avoid more costs from a low-sales location.
2)
Short-term Commitment
. Pop-up shops allow for a more selective approach to selling and marketing. Instead of being locked into a long-term rental agreement, the brand is only committed for a fixed period of time, which means the brand is more able to adapt to changes in its business and marketing plans. What's more, a brand can open up a pop-up shop only when traffic and sales are expected to be high, and then close it down during the slower months.
3)
Generate Buzz
. One of the primary benefits of pop-up shops is that they help a brand generate buzz. Pop-up retail establishments are often fantastic marketing tools because they tend to draw attention from crowds. People are interested in the sudden existence of a store, especially if they look unique -- for instance, a shipping container. As Robert Humble of HyBrid Architecture, a firm that designs shipping container projects, says, "There's a certain built-in marketing cachet that [container stores] have that other businesses don't." Big brands such as Target, Levi's, Adidas and the Gap have used pop-up shops to generate buzz around a product or promotion.
4)
Testing & Experimentation
. The low-cost and temporary nature of pop-up shops allow brands to engage in test marketing new products and promotions to gauge future demand. Major companies like
BMW's MINI
have opened up pop-up shops for this purpose, while smaller businesses have used pop-ups to try out a new business idea, such as
Softroom's 'Wahaca Southbank Experiment
, a pop-up Mexican restaurant in London.
5)
Encourage Spontaneous Purchases
. A pop-up store's temporary nature creates a sense of urgency among consumers to buy now. Unlike traditional retail establishments, the pop-up store itself is presented as a "limited-edition" item that people must take advantage of in the moment or regret their inaction later. According to the co-founder of Think PR Claudine Gumbel, "There's a certain passion about things that shout 'act now!' and that has transpired into the way we shop too."
6)
Brand Extension
. Pop-ups allow a business to extend its brand and build awareness. For online businesses, especially, pop-up shops provide a way to interact with customers face-to-face and also educate them about new products, services and features. This can be particularly beneficial for brands that have complicated offerings or want to capture a market segment that would not normally visit the brand's site or buy from the company online. For example, Google launched a pop-up store in Australia last year, called
Androidland
, to introduce and educate customers on the Google Android mobile operating system.
There are many benefits of pop-up shops, and an increasing number of businesses today are jumping on board to try their hand at opening a temporary retail establishment. Uncover more temporary and mobile retail strategies by downloading Trend Hunter's
Retail Trend Report
and by accessing our PRO trends database for trends like
Pop-Up Eats
and
Portashop
.