How the Benefits of a Green Office Can Help Boost Morale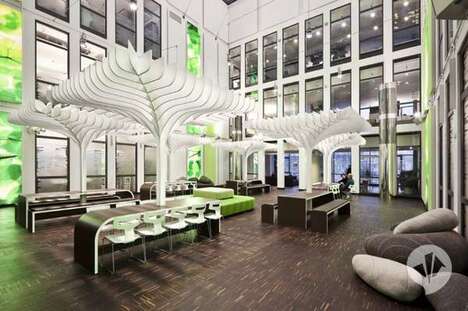 While there might be several obvious benefits of a green office including a lower impact on the earth, there are certain ways that the new age design aesthetic can help to boost morale within a companies work culture. A green office can mean any number of different things ranging all the way from simply decreasing supply purchase and increasing the number of eco-friendly alternatives to the more advanced actions such as switching energy providers and eliminating waste through a variety of means. With that said, the kinds of benefits a green office can have on employees can be plentiful and well worth the switch.
Green offices connect
the business aspect of life to the natural world, which in turn can help to create a more symbiotic relationship between the two. Office culture doesn't have to be at odds with the outside world; taking eco options in stride – like the ones found in Trend Hunter's
Eco Trend Report
– can help employees feel more relaxed, welcomed and thus happier.
Green offices establish accomplishment
as a mainstay within the office environment in a completely new and unconventional way. Business operations indeed offer satisfaction, but taking things a step further by incorporating environmental aspects can help workers feel part of something bigger. Connecting with the natural world by decreasing consumption and opting for friendlier options help us to understand the true reasons behind our decisions.
Adding a green aspect
to the office equation can also help to make members of the team more aware of their actions with regard to the environment, which is fantastic, but it may also add to their work ethic as well. Paying closer attention to details in one aspect of life can lead to recognizing shortcomings in others. Subsequently, an employee on board with the benefits of a green office can become more well-rounded individuals that respect the environment, indoors and out, and their coworkers that much more.