Learn to Attract Great Employees in Unexpected Ways
Related Trend Reports
Art & Design
,
Branding
,
Business
,
Design
,
Furniture
,
Health
,
Home
,
Life
,
Life Stages
,
Lifestyle
,
Toys
,
Unique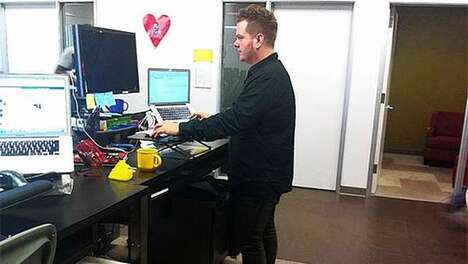 Finding the best method to attract great employees isn't just about offering the most competitive salary, despite this being a contributing factor. Talent is tough to pinpoint and can come from various directions ranging from referrals to direct recruiting. With that said, keeping employees happy can in turn attract other professionals in the field because of the reputation built for a quality workplace environment.
An office environment that is filled with positive energy can help contribute immensely to productivity and happiness amongst the employee population. There are a number of companies creating toys that are specifically designed for play in the office because they help to take one's mind off of stressful tasks for a moment as well as offering the stimulating benefits that play has. This is discussed in Trend Hunter's PRO Trend
Office Play
, which highlights some of the products that an employer might use to help encourage an open workforce. What better way to help increase morale than to encourage playtime every once and a while?
Moving forward, increasing the level of satisfaction when it comes to employee productivity is a great method for bolstering engagement. If a member of the team feels as though they are completing a task, fulfilling a role and ultimately contributing positively to the company as a whole, then there will likely be a strengthening of company loyalty. Moreover, exacerbating the ways in which they are a crucial part of the company is a great method to help boost self-confidence. This might be done through weekly bonuses or events to help encourage engagement.
The above tips can help boost interoffice morale, which can in turn lure talent to want to get involved with the company. Trend Hunter's
Business Trend Report
details a number of examples as to how different methods are being practiced by leading organizations, which can in turn help spark ideas about how to incite innovation.