How Vintage Aesthetics in Branding Entice Consumers
Related Trend Reports
Art & Design
,
Branding
,
Credit Crunch
,
Fashion
,
Hair
,
Hip Fashion
,
Jewelry
,
Life Stages
,
Luxury
,
Luxury Fashion
,
Media
,
Photography
,
Pop Culture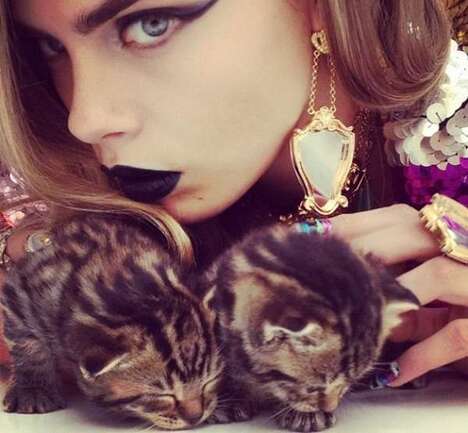 Vintage aesthetics in branding are seen mostly in the fashion industry, but that doesn't mean other businesses can't take a note from the style pages. Vintage materials and looking back to the past can provide an excellent source of inspiration when it comes to design and product development. Ralph Lauren, a retail mogul, is a lover of vintage cars, and an interview with Forbes revealed how this entrepreneur takes details from autos and transfers them to other products. "I look at a car and love its highly stylized air vents, a row of steel rivets, a hubcap or a gas cap, a perfectly crafted steering wheel, soft buttery leather upholstery, a richly polished burl-wood dashboard or the beauty of a leather strap over the hood," he states. "I take those details and integrate them into everything I design from a watch to a chair to a woman's evening dress."
This transfer of ideas can happen from product-to-product, but also between the same commodities made in separate eras. For example, much of the photography that took place in the 60s and 70s has been transformed in the digital age. The idea for the popular app was sparked during a photography class while studying abroad, and although great photos could be had with older cameras, the speed and efficiency was seriously lacking. Thus, Instagram was born, providing a great role model for how vintage aesthetics in branding are extremely enticing to consumers.
Another pro to adding updated vintage aesthetics in branding is the effect of nostalgia. Older consumers love to relive childhood memories through a refurbished product. Not only can brands entice a younger demographic through vintage appeal, but they can also target an older audience simultaneously by developing this emotional connection.
Product inspiration can come from a number of places, and looking back at various vintage designs from different industries is an excellent starting point. As long as developers never sacrifice function for form, these retro stimulators have the potential to turn a small idea into a highly successful company. Trend Hunter's
Branding Trend Report
provides a deeper look into the vintage aesthetics in branding and marketing.