Fighting Against Old Ideas
Scott Wicker, SVP and Chief Marketing Officer, ZINK Imaging
Related Trend Reports
Art & Design
,
Fashion
,
Gadgets
,
Hip Fashion
,
Interactive
,
Lifestyle
,
Marketing
,
Media
,
Mobile
,
Photography
,
Pop Culture
,
Print
,
Retail
,
Social Media
,
Unique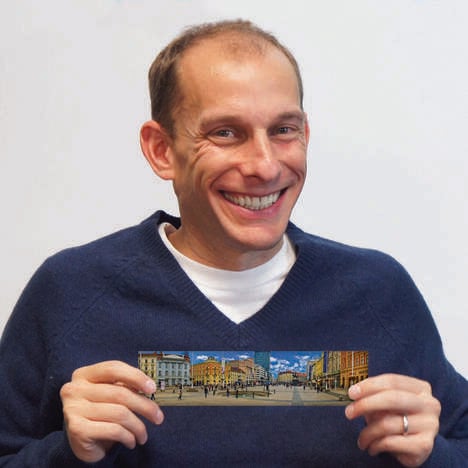 When ZINK Imaging was in its infancy, Scott Wicker jumped at the opportunity to work with the company as one of its founding team members. Now the Senior Vice President and Chief Marketing Officer, Wicker has helped to grow ZINK – a name that's a combination of the words 'zero' and 'ink' – to the innovative brand it is today. ZINK Imaging specializes in offering inkless printing technologies to leading brands, but has recently made the jump into the consumer electronics market with the hAppy lineup of printers, which are designed to print wirelessly from a smartphone or tablet. The consistent attention to the customer experience at ZINK Imaging makes it a brand that's ready for today and tomorrow.
7 Questions with Scott
1. How does your team generate good ideas?
They come about in two ways; some are internally generated, and then there's the research aspect. The way that the hAppy line came about was looking for unique products to help push things in a more consumer-based direction. Instead of looking at what was already done, we started with a clean slate and spoke to consumers about what they'd like to see and went from there. What came about was three clear ways that the product could be used: to better organize a home, for use with crafting and for photograph printing. The craft and DIY community was not something that was perceived at first as being an area for growth, but fans of the product made their avid use known, and it helped to expand the business in ways we hadn't previously considered.
2. Do you have specific rituals for re-setting yourself/your team to be creative?
When you get into the day-to-day, it can be easy to fall into routine, but by utilizing social media and other resources to help keep ideas flowing, the team can effectively know what's happening without missing a beat. Social media is becoming one of the most effective tools for listening to the larger audience and getting a broader scope to effectively get an idea of how things are being received and utilized.
3. What is the biggest challenge you face when innovating?
You always have to guard against old ideas. You aren't limited by what you see because there's a sheer limitless number of people out there who can tell you on a virtual basis what they like or dislike. Social media sites like Pinterest can give a nice snapshot of what's happening on a more macro level to better gauge how something could be received. Constantly questioning the approach to keep innovating can help to ward off complacency. Listening to team members regarding what they believe can help to enhance the final product is essential, but so is listening to the customer. It's about striking a balance between the two opinions to produce something that isn't too broad or too specific.
4. Has there ever been an instance where another industry has influenced an innovation at your company?
In the founding of the company, one of the main innovations that influenced the product line was smartphone technology. The way that consumers are moving from point-and-shoot photography to more smartphone-based technology is a big aspect. Recognizing how the medium is changing and evolving can help us understand how the company could move forward. While physical photos might be less desirable these days, the act of simple, on-the-go printing solutions could take precedence. Photo printing might be a bit old school, but there's still a sensory experience that's being satisfied for a number of consumers and definitely something that our products can continue to help make easier.
5. What makes an innovative culture? How do you create a culture of innovation?
Sometimes it's about challenging the way that the business is operating. Innovation and creativity can sometimes take a backseat, but it definitely goes back to the organization itself. The more you can get people to give direct feedback and listen to social media-based conversations can spark something that wouldn't come about otherwise if things are kept too in-house. It takes a combination of special talent who can see the future ahead of customers and how something could be offered in a way that's effective and personal. Keeping the focus on constant improvement is an ideal way to deliver a great product, but also how you continue innovating.
6. Looking to the future, how is ZINK Imaging going to be a leader in innovation?
In some ways, the future has the potential to be even more exciting than what people see today. What's really great about the technology behind ZINK is that it can address multiple customers and multiple avenues with one core design. The technology can evolve rapidly and is incredibly exciting. What's most exciting is when a product is diverse and appeals to a wide array of different customers. That's what keeps the fire burning here, is the potential of what will come about when a new idea is released and how it will be used once it makes its way to the customer.
7. Have you identified any gaps in your innovation process that you're looking to improve on?
Originally, the technology at ZINK was being used for business-oriented products and not really for any consumer products. The hAppy line of printers is the brand's expansion into the on-the-go printing market with designs that allow for a wide array of uses. As with any endeavor, we are constantly questioning which opportunities to go after and which ones to leave alone. Are you choosing the right one? There's no way to find out except to try it out. With respect to our industry, if all you focus on is photography, then it can stunt certain elements. By listening to the customer, you can learn how a product is being used and interpreted to keep moving the designs forward.