Revamping Your Brand with a DIY Aesthetic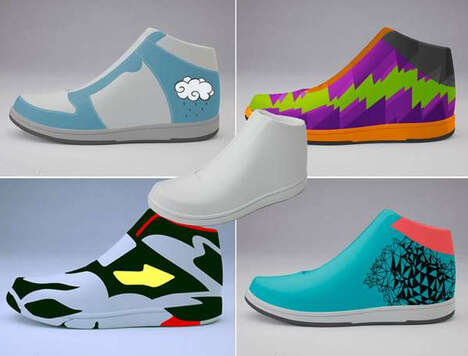 There have never been more options when it comes to revamping your brand, and a crowdsourced and engaging DIY approach just might be the change needed in order to turn heads.
Dominating the Internet, DIY projects and community-sourced endeavors have been on the rise over the past few years and appeal to consumers in a number of ways. Often less expensive and more personal than store-bought goods and products, the appeal of this kind of aesthetic can be easily understood. From fashion to home goods, plenty of industries have been shaken up by this change. If appropriated the right way, a homemade branding overhaul can be extremely advantageous.
Much of the appeal of DIY projects comes from the personal nature of these products and the opportunity to customize. The
Delroy Dennisur Stance Project
took full advantage of this, and commissioned a project on Kickstarter. The shoes sold from the company offered consumers a truly blank slate and allowed buyers to customize their goods any way they pleased. The results from the crowd-sourced project were positive, and provided great publicity for the company. This kind of approach to retail is empowering to consumers, and allows them to connect more strongly with a brand. Handing over the creative reigns to the masses can be daunting, but as shown in this example, can prove to be highly effective when it comes to revamping your brand.
Fashion is a natural fit for this kind of branding, and even high-end companies are on board. The Fendi
Do-It-Yourself Baguette Mezzo Punto
was an unexpected project by the fashion house, but was effective in drawing attention to the brand and setting the company apart from competitors. More than just a blank bag, this product was an elaborate and instructional set that allowed craftier consumers to try their hand at designing. Simply facilitating DIY projects can be a smart and advantageous way to generate buzz for your company. The Internet has made it easier than ever to showcase creative projects such as these, and the engagement made with customers can be well worth the change.
For more information on revamping your brand and exploring new means of engagement, check out Trend Hunter's
Branding Trend Report
.