Why a Rental Business Model is the Way of the Future
Related Trend Reports
Art & Design
,
Business
,
Design
,
Eco
,
Fashion
,
Lifestyle
,
Luxury
,
Luxury Fashion
,
Marketing
,
Social Business
,
Travel
,
World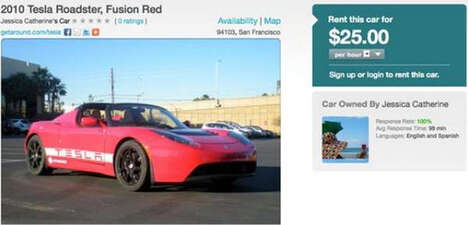 A rental business model, though often intimidating, can provide benefits for both companies as well as consumers. Convenience is the way of the future, and people have never been more receptive to products and services that make their lives run more smoothly. As such, savvy brands have caught onto this phenomenon and developed highly innovative rental services that capitalize on both cost-efficiency and ease of use.
Though rental services have existed in industries related to entertainment for a long time, more and more sectors are catching on in new and incredibly clever ways.
Rent Frock Repeat
, based in Toronto, has led the way in making luxury fashion accessible to more and more people. The company rents out couture dresses for affordable prices. For example, someone can rent a $495 dress for a mere $80. Allowing more people access to garments while slowing down the need to produce and consume as much product takes advantage of the best of both worlds. This option not only solves a practical need and desire, but is very profitable as well. This model tends to work particularly well for luxury fashion items that most trendy consumers can't afford.
The Getaround App
makes the most of unused cars by facilitating a peer-to-peer network for vehicle sharing. The app works on most smartphones and allows people to borrow vehicles from people in their area. Optimizing technology and putting renting into the hands of people, this model is highly appealing to those looking for more affordable solutions to everyday needs. By making it easier for those without cars to get around when needed, this service banks on convenience, and sets itself up as a useful tool for those without immediate access to transportation. Setting up a network where people can share and rent between each other can be an effective way to integrate a rental business model into your strategy.
For more information regarding innovative business strategies, check out Trend Hunter's
Business Trend Report
.