Why Convenience Should Come First When Providing a Positive Customer Experience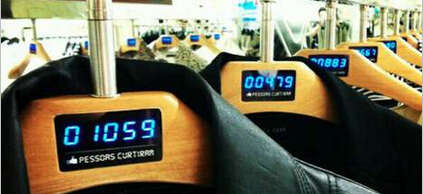 Most brands, no matter the industry, seek to provide consumers with a positive customer experience. It's incredibly important to keep users in mind, and design products and services that, above all, favor consumers.
Highlighted in Trend Hunter's
Business Trend Report
, automated customer experience options and wifi are the way of the future, and in many cases serve to enhance and streamline the customer experience. Though many brands have taken basic steps to make this happen, some have gone above and beyond more traditional automation tactics and employed truly innovative changes.
Brazillian clothing brand C&A premiered incredibly high-tech
hangers
in its stores this year that displayed the amount of likes a given garment received when posted onto the company's Facebook page. Giving customers up-to-date feedback on an item in a way that involved many of its fans not only increased cultural connection to C&A, but offered shoppers a second opinion on their wardrobe choices, making the shopping experience that much easier. The novelty of this tactic alone drove a great deal of attention to the brand, making them an exemplary company when it comes to improving the retail experience.
Though services like these can, indeed, improve customer experience in stores, brands have also used innovative and convenient product design to leave consumers with a positive customer experience. Designing and selling products that serve multiple purposes has a huge influence on how a consumer relates to a brand. Products like John Green's
'Embrace Table'
are a prime example of how a company that puts consumer needs first can come out on top as a result of this approach. Creating functional, beautiful products is something that should be prioritized no matter what, but going the extra step to ensure that consumers get the most out of a product is what sets a brand apart.
Consider what it is that your customers really want, and tailor the products and services that your brand offers to suit this in the most direct and unique way possible.