5 Things to Consider in Your Pinterest Marketing Strategy
Related Trend Reports
Art & Design
,
Computers
,
Design
,
Fashion
,
Gadgets
,
Interactive
,
Internet
,
Marketing
,
Mobile
,
Photography
,
Social Media
,
Tech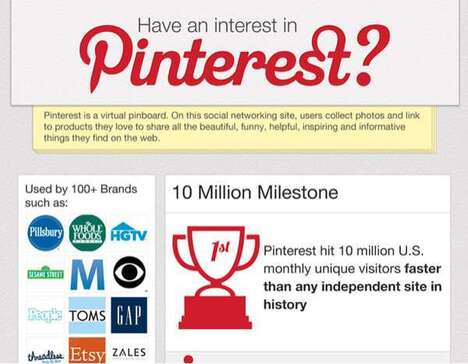 More consumers today prefer to see than to read, and this visual consumption preference, along with smartphone users' standard day-to-day photo-sharing activities, has contributed to the tremendous growth of social media sites like Pinterest and Instagram. Brands are increasingly trying their hand at Pinterest marketing, in particular, as this visually stimulating site has become the third most popular social network just after Facebook and Twitter. What's more, according to a study by Shareaholic, Pinterest actually drives more referral traffic than Google. To make your Pinterest marketing as effective as it can be, here are some things to consider:
1.
Brand Personality
. Before you set out on your Pinterest marketing plan, make sure your brand is compatible with the social networking site. For instance, does your company rely heavily on visual content or have access to outstanding photography? After you have decided that Pinterest is a good fit, ensure your pins showcase your brand personality, in addition to your values, interests and passions. Have fun with the site and include photos that reflect what your brand is all about. You could, for example, pin up movies and books that your managers love, photos from company retreats and images from local charities supported by your organization.
2.
Keywords, Keywords, Keywords
. As in any other online marketing and content initiative, keywords are imperative in directing consumers to your Pinterest account. When you use strategic keywords in your Pinterest boards and photos, they not only show up in searches on Pinterest but also Google, since the social photo site is indexed and crawled by Google as well. Take care to optimize the descriptions and comments of your Pinterest photos with significant keywords and phrases, as well as the image file names (if possible) and your brand's profile description.
3.
Strategic Pinning
. An effective Pinterest marketing strategy is not focused solely on promoting product. Pinterest users are more interested in engaging content and visual imagery (and are quick to avoid accounts that look too self-involved), so it's important to include pins from other sources, not only your company, in your pinning strategy. Further, engage your followers by providing a mix of content; pin photos of your employees behind-the-scenes, special events, your clients or things that your company looks to for inspiration. Use Pinterest to provide users with tips, information and featured content -- for example, Pinterest can be used to pin your brand's YouTube videos.
4.
Connecting Across Platforms
. Just because you now have a Pinterest account doesn't mean your current fans from Facebook and Twitter know it. Make sure you connect your social media accounts by pointing your other fans to your Pinterest page and promoting it via offline channels, such as in your store or at events. Also make sure to add 'Pin It' buttons to your corporate website, blog or online boutique to encourage Pinterest users to pin your content.
5.
Creative Campaigns
Once your Pinterest page is up and running, you might want to consider launching a creative marketing campaign, such as a 'Pin it to Win it' contest. For example, the Jetsetter Pin It to Win It contest asked users to create pinboards with the name 'Jetsetter Curator' and pin photos representing their dream vacations. Beauty brand Elizabeth Arden launched a similar campaign, but this time for charity. It's
'Pin It to Give It'
campaign had users repin photos with the hashtag #PinItToGiveIt, with every repin resulting in a donated cosmetic item to the Look Good Feel Better organization.
Discover more Pinterest marketing strategies brands are using by accessing Trend Hunter's PRO database for trends like
Virtual Collaging
and
Photovertising
. Also make sure to download our
Social Media Trend Report
to find more information about the changes happening in today's social media landscape.