Anticipate Consumer Needs for Products with a Multi-Purpose Design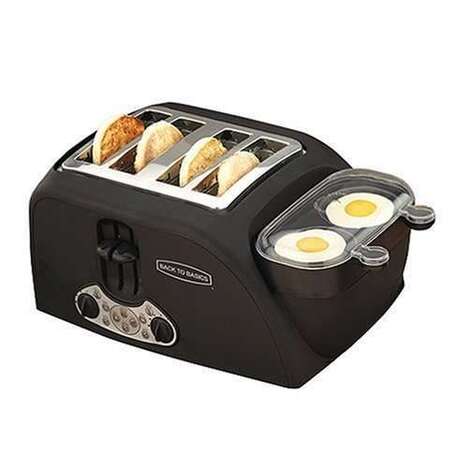 The most interactive and functional items are those that have a multi-purpose design. This concept works because consumers who want to get the most out of their products are attracted to items that offer several different uses.
The Trend Hunter
Design Trend Report
features many multi-function design ideas that range from modular furnishings to multi-use appliances. One such item is the
Zanussi fridge
that has an espresso machine built into the door. By combining the two together, Zanussi has eliminated the need for an extra appliance, which saves space in the kitchen and makes breakfast a more straight-forward task as all the necessary items are located in the same place. While this offers a practical solution, the
HomePub
takes a more novel approach with a similar product. Instead of an espresso machine, this fridge gives you draft beer straight from a tap in the door. This kind of product appeals to consumers who like the idea of transforming a normal fridge into a personal pub. It's that extra unexpected function that draws consumer attention towards a product, and while it may be more expensive than a normal appliance, a fridge that has a second purpose offers the promise of being more useful in the long run.
Along the same lines, modular furnishings have the same multi-purpose design by allowing users to reconfigure the pieces to suit their own personal needs. The
Worksofa Furniture Collection
is made up of multiple individual chairs that can be connected in several different ways. The ability to rearrange the pieces to form larger sofas and settings, gives the users the ability to create personally customized spaces that suit any purpose.
Such multi-purpose design elements that have two-in-one functions as well as modular structures give consumers the flexibility they desire from their products and lets them get more use out of their purchases. To learn more, check out Trend Hunter's
Design Trend Report
.