Marketing to Millennials: Rebranding Hip with Irony
Related Trend Reports
Art & Design
,
Branding
,
Business
,
Design
,
Fashion
,
Fashion for Men
,
Hip Fashion
,
Hip Hotels
,
Life Stages
,
Lifestyle
,
Photography
,
Pop Culture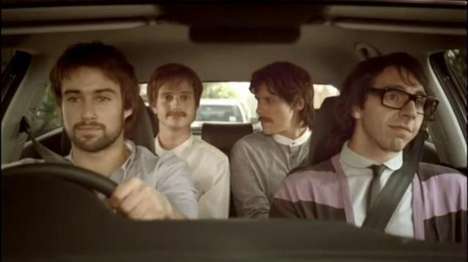 In this business era that glorifies novelty, it is difficult to stay ahead of the curb and especially market to millenials. Among the most active and social groups of consumers is the millennial generation -- a generation that has revolutionized business and forced companies to innovate. As corporations seek to cater to this group of educated and media-savvy individuals, an interesting phenomenon has come about that seems to be the key to creating mass interest to the millennial group: the ironic and humorous hipster group.
Trend Hunter's
Mainstream Hipster PRO Trend
describes how brands are marketing their products to appeal to millennial partiality to counterculture. The dominance of the hipster subculture has contributed to creating widely successful campaigns that use the ideals of counterculture to make profit. For instance,
Volkswagen
made a campaign to appeal to the younger generation. The German car company used youth culture to promote their Polo Car Model. The commercial sports young adults competing for 'coolest man at the moment' award. The humorous commercial does an exemplary job of using irony and counterculture to create buzz for its product.
As stated by Venkatesh Rao, a contributor at Forbes Magazine, this ironic connection to millennials is pivotal: "Relationships that effectively use irony and humor to at once acknowledge the artificial and simulated nature of the manufactured 'personal' relationship and make use of its undoubted practical utility."
With the undoubted rise in popularity of the hipster counterculture, it becomes evident that irony and defining the next big thing before it becomes popular is quintessential for having a successful marketing strategy. Learn more about this phenomenon by checking out Trend Hunter's
Marketing Trend Report
.