Child's Play: How Your Company Should be Marketing to Kids
Related Trend Reports
Art & Design
,
Babies
,
Computers
,
Customization
,
Design
,
Fashion
,
Gadgets
,
Hip Fashion
,
Life Stages
,
Lifestyle
,
Marketing
,
Mobile
,
Photography
,
Tech
,
Toys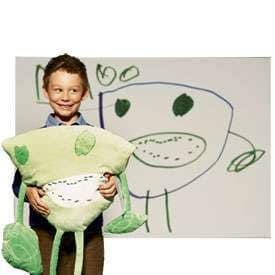 Marketing to kids has drastically changed with the advent of new technologies. According to USA Today, the children's market has become a $1.12 trillion dollar industry, making this sector a profitable arena for many companies to tackle. Moreover, according to kid marketing consultant James McNeal, "Up to age 16, kids are determining most expenditures in the household. This is very attractive to marketers." With so much money on the line, how can businesses target this demographic?
Twenty years ago, marketing to kids was much more direct. Ads were placed on cereal boxes or interspersed between child cartoons, and parents could largely control what their children were exposed to. The Internet has completely changed these methods, as tablets and computer desktops are common staples in the rooms of many kids starting as early as five years old." A site called Webkinz offers children virtual cash when ads are clicked, improving the click-through rate for companies behind these promotions. While this method, among others, has given rise to debate, you can't argue with results."
Companies must acknowledge the prevalence of the Internet and technology in a child's life and adjust their products accordingly. Trend Hunter has come across numerous child-friendly designs that use new technologies to design forward-thinking commodities for this young demographic. For example,
Make-My-Own-Monster
by FAO Schwarz allows parents to send in drawings done by their children, which are then turned into real-life plush toys. Although they may be odd-looking, these stuffed animals foster creativity and make use of the growing Internet culture that kids are inundated with. All one has to do is upload the drawing and send it via email.
Trend Hunter's PRO trend
Kidaptive Design
is another example of successful marketing to kids while keeping the parents in mind. Since children are constantly growing, a number of companies have come up with ways to save cash and design products that accomodate this constant growth. Designs such as adjustable bikes and highchairs are perfect for the kids, and also attract parents looking to save money on these necessities.
To attract loyal customers and ensure the well-being of children, companies should consider how to infuse tech with products and promotions. This younger generation is being raised on new technologies, so companies that tap into these developments have the potential to win big.
To find out more about marketing to kids, Trend Hunter's
Toy Trend Report
discusses the latest products attracting this younger generation.