4 Reasons Brands Are Using Location-Based Marketing Strategies
Related Trend Reports
Business
,
Credit Crunch
,
Design
,
Food
,
Gadgets
,
Interactive
,
Lifestyle
,
Marketing
,
Mobile
,
New Ventures
,
Publicity Stunts
,
Retail
,
Social Media
,
Tech
,
Travel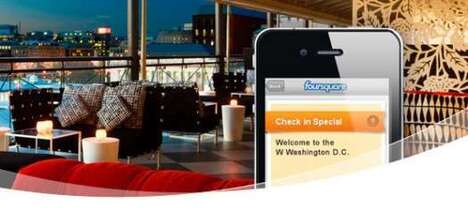 When it comes to increasing sales and creating awareness, sometimes zeroing in on a specific location can prove more advantageous than targeting a wide area; this is why so many brands today are using location-based marketing strategies to connect with their customers. Here are four advantages in using location-based marketing, or geo-targeting, as part of your marketing game plan:
1)
Attract New Customers
. Brands can use location-based marketing to gain new customers by offering a reward for the first time a person checks in. Taking this even further, you can reward your existing customers whenever they bring along their friends -- one manifestation of this is Foursquare's 'swarm' badge, which is awarded to users who can get 50 or more people to check into a business at a specified time.
2)
Personalized Marketing Messages
. Location-based marketing allows brands to customize their marketing messages based on a person's location, which can translate into more personalized offers, promotions, information and entertainment. For example, brands can use images of a customer's city or local lingo in its marketing messages to make customers feel more at ease.
3)
Better Targeting
. By using geo-targeting, brands are able to communicate with people who are physically near their establishments, which means there is a higher chance the customer will visit and do business with them. Further, hyper-targeting tools like
Foursquare's Local Updates
allows brands to further connect with customers who are more likely to purchase their products or services, as it enables them to send messages to customers who frequently check into their establishments. Brands can also use location-based marketing to better understand their customer's preferences -- for instance, which events and promotions receive the most check-ins -- and develop more effective marketing campaigns based on these findings.
4)
Build Loyalty
. Brands can use different location-based marketing strategies to reward users for checking into their businesses, which encourages repeat visits and helps to build brand loyalty.
Starwood Hotels
, for example, offers customers loyalty points for checking into one of their hotels, and the points can be redeemed for free hotel stays and special vacation packages.
There are clear benefits to geo-targeting, and it is reflected in the growing number of brands using location-based marketing strategies. To find out more about the developments in location-based marketing and geo-targeting, download Trend Hunter's
Social Media Trend Report
and
Marketing Trend Report
.