Leadership in the Workplace: 5 Unconventional Ways to Boost Efficiency -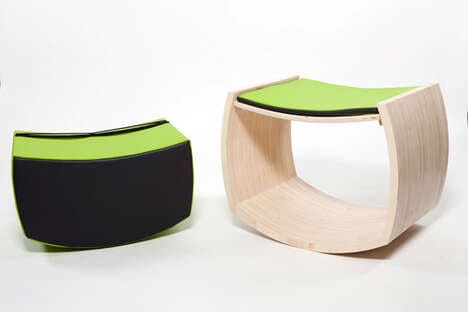 Leadership in the workplace comes from both self-motivation, as well as outward stimuli. Being trapped in a dark basement cubicle all day may keep things quiet, but lack of sunlight and human interaction can hinder one's performance with disastrous results. In an interview with Forbes magazine, Professors Cyril Bouquet and Ben Bryant argue that a lack of relaxation and too much fixation on an issue exacerbates problems in the workplace during times of recession.
To counteract these obstacles, leaders must come up with new ways to boost efficiency levels from their employees without causing too much stress. Trend Hunter has found several unconventional ways to encourage leadership in the workplace, and overcome the challenges in business.
1)
Fitness furniture
. According to Workplace Wellness statistics, "Coca-Cola's physical fitness program recouped $500 per year per worker, despite the fact that only 60% of their staff was enrolled." Having access to fitness equipment -- even at one's desk -- allows workers to have a quick mental break from the pressures of work. A 15 minute workout mid-morning will allow workers to achieve that place of relaxation after boosting their heart rate through a few exercises.
2)
Desk toys
. Michael Kerr, author of Inspiring Workplaces, argues that crazy props help to stimulate creativity, and help people access their sense of humor during times of stress. Psychology studies show that humor is the opposite of stress, so accessing this is the best way to combat feelings of anxiety. Google is a great example of a company that knows the importance of office stimuli. With slides between floors and bright colors in all rooms, it's no wonder it is one of the most sought-after companies to work for.
3)
Social good initiatives
. Leadership in the workplace and boosts in efficiency also come from the end result. Going to a fun office all day is great, but if what you are doing is not meaningful, then these outward stimulis only go so far. Many companies such as Toms are doing business with an aim to make the world a better place. The more entrepreneurs start incorporating these services into their business models, the more motivated employees can become knowing their efforts are helping the environment or those in need.
4)
Personalized workspaces
. A UK study performed on over 2,000 workers showed how worker morale and productivity increased when employees were allowed to personalize their workspace. Co-author Professor Alex Haslam on the project states, "Further research that we and others have carried out also highlights strong links between a lack of control over workspace and sickness in the office." By giving employees the power to bring a sense of identity to work through personal design, leaders help to boost efficiency and productivity of their team.
5)
Gamification of the workplace
. At Trend Hunter, we have a projected scoreboard in the main room, which highlights everyone's stats for the day, our current traffic and what trends are hot right now. By gamifying the art of trend writing, employee productivity level increased by over 50%. Sometimes, instilling a sense of leadership in the workplace can be done by making everyone's efficiency as visible (and gamified) as possible.
To find out more about leadership in the workplace, check out Trend Hunter's
Art and Design Trend Report
for office inspiration.