Keep Employees Focused by Eliminating Structure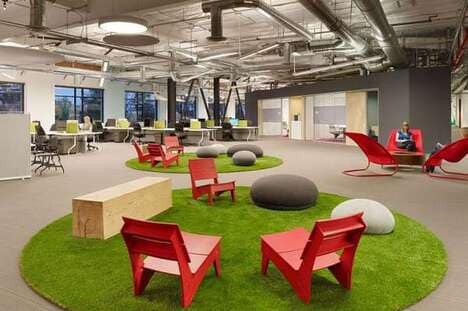 It might seem like a backwards approach to productivity, but eliminating structure to help keep employees focused is a modern tactic that can add immense quality to a workplace. The days of the traditional office environment are numbered as more industry leaders do away with traditional cubicles and lead the way for what is becoming the new standard for 21st century workspaces. What's interesting about these spaces is that while they may remove the structure of an office, productivity levels don't waver.
The
Google Toronto office
recently underwent a revamping because of necessary expansion to accommodate some 400 employees and what was produced is one of the most cutting-edge spaces in the city. Various themed rooms make the office appear like more of a lounge, but the relaxed environment actually helps to keep employees focused by removing perceived structure. Employees are encouraged to take breaks and work in different areas, which can help broaden one's viewpoint and thus help combat against creative roadblocks or stress.
Another prime example of a modern workspace is
Skype's Palo Alto office
, where creativity and functionality are blended for a more cohesive experience for employees. While traditional workspaces are present, there are also a number of spaces throughout the office to unwind, reset and rethink an approach. It's interesting to note how well the levels of practicality and creativity are integrated because usually they don't make for good bedfellows. Once again, the space does away with traditional structure to help everyone find a balance between work and play, so the work produced is more fluid than forced.
Eliminating structure in a workplace can be perceived as an odd way to keep employees focused, but it's clear that there's something to the design aesthetic in the grand scheme. Check out Trend Hunter's
Design Trend Report
for more examples of spaces that are leading the way in various ways and forms.