Using Absurdity as an Innovative Advertising Campaign Technique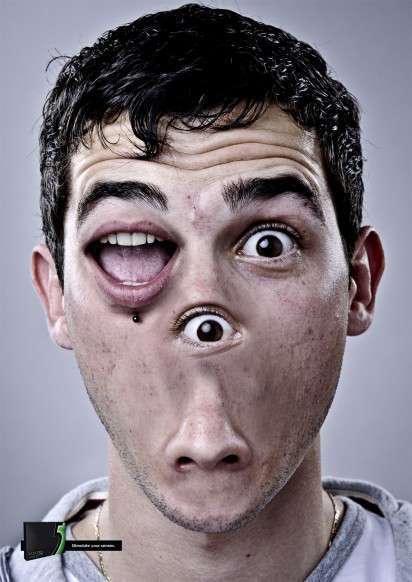 Advertising has evolved in a multitude of different ways that make it a relatively difficult landscape to navigate, which is why innovative advertising campaigns of today are incorporating a plethora of unexpected features to grab the attention of consumers. For the 21st century customer, there are stimuli coming from every angle and that makes putting a message front and center significantly more difficult. As such, brands are implementing a variety of different techniques that are rather absurd in a bid to create something that's short, sweet and memorable without effort.
The latest series of
Wrigley's 5 gum
advertisements feature distorted faces with the model's eyes, nose and mouth in the incorrect places. The series of ads focuses on the 5 senses – linked to the product's name – and how the gum will be experienced. Strange and eye-catching, the series of advertisements remain in the consumer's mind long after the original image has faded to recall the product being marketed. It's this kind of absurd form of marketing that grabs attention for a split second to effectively express an idea that is then recalled later on for further analysis, which renders the campaign successful.
Another level of absurdity that is garnering more respect from everyone from customers to creators is advertising on human bodies to emphasis the literal embodiment of a brand or product. This topic is discussed in Trend Hunter's PRO Trend
Peoplevertising
, where everything from hair to eyelids is a place to put an advertising spot. Brands are beginning to recognize the power these so-called absurd stunts have to offer and their ability to garner not simply attention on the street, but media coverage depending on the intensity, which can make a campaign go viral.
Trend Hunter's
Marketing Trend Report
details the latest innovations at play within the industry, so check it out for more palpable information.