Changing Healthy Lifestyle Marketing to Encourage Better Body Image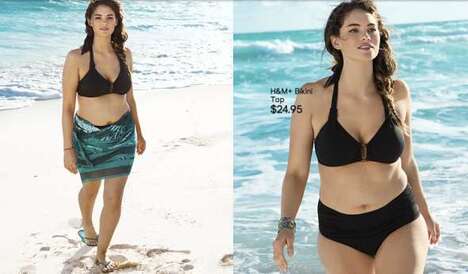 On a consistent basis, those with a thin body type have been of central focus within healthy lifestyle marketing, but taking a more holistic approach to advertising by encouraging a better body image is an innovative concept that can help to garner a more loyal following. The advertising and fashion industries have long since been flooded with models that are beyond thin, which as a result has helped to bolster a strong list of effects on the general public ranging from distorted self images to eating disorders. However, going with a more humanized approach in marketing and encouraging a healthier lifestyle can not only create a stronger connection between the consumer and a brand, but get more attention than ever imagined.
The
Jennie Runk for H&M
swimsuit advertisements have been receiving worldwide praise from women who are delighted to see an average size woman in the spotlight. H&M has experienced an outpouring of support for the ads, which feature a size 12 Runk as opposed to a traditionally underweight model. It's through this simple marketing campaign that H&M has been able to garner a strong connection with women on a worldwide basis to have them understand that while Runk is a size 12, the fashions she models are on the regular rack in any of the brand's stores.
Taking a more direct and powerful approach, the
Star Models Campaign
features fashion sketches paired with models who have been altered to resemble the sketches. Although the sketches look like a familiar form of clothing design, the frame of the girl – when translated to human – appears disturbing. Run with the tagline "You are not a sketch," the campaign is helping to change the face of healthy lifestyle marketing, which in turn is garnering more views than previously thought and creating a stronger connection with consumers that's based on transparency.
Trend Hunter's
Marketing Trend Report
is a fantastic tool that can help offer insight when developing a fresh campaign, so check it out for more information.