Forever Young: Playful and Fun Design Ideas that Appeal to Our Inner Child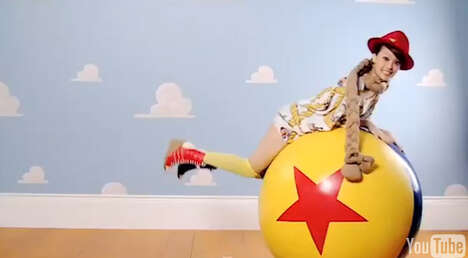 During stressful times, we tend to choose things that remind us of our childhoods, a more innocent and problem-free time. However, instead of nostalgia marketing, which is typically used to evoke emotion from the viewer, a brand can opt for playful, lighthearted elements and fun design ideas that will appeal to one's inner child, literally.
At Trend Hunter, we've seen many examples of designers applying child-centric elements to reinvent their products or brand message, ultimately making the adult users feel young again. These range from re-interpreting the functionality of furniture to give them more playful applications to deliberately mimicking children's toys in the design process.
For example, the Toy Story Clothing Line by Bossini wasn't made for children, but for adults, and similarly, Finn Stone's 'LEG-GO' stilettos were made to be worn by an adult woman. Marleen Jansen's Seesaw Table was designed to augment the home by creating a fun and lighthearted way to enjoy dinner, and the Tetrominos Wallpaper turns any interior into a life-sized Tetris game. In a general sense, the vibrant and splashy colors used inside and outside some buildings today help to remind us of coloring books, crayons and the days we used to spend dipping our hands in bright acrylic paint.
The message that can be taken from the above examples, and Pro Trends like
In-Home Play
,
Playfulized Routine
and
Pop Culture Couture
, is that youthful and fun design ideas can take form in almost anything and that the more playful it is, the better -- the key is to think like a child.
Check out our
Art & Design Trend Report
to get more examples of how brands are capturing adult consumers through kiddie-inspired ideas.