Why an Eco-Friendly Packaging Design is Good For the Earth and a Brand
Related Trend Reports
Art & Design
,
Branding
,
Design
,
Food
,
Lifestyle
,
Market
,
Marketing
,
New Ventures
,
Regional
,
Retail
,
World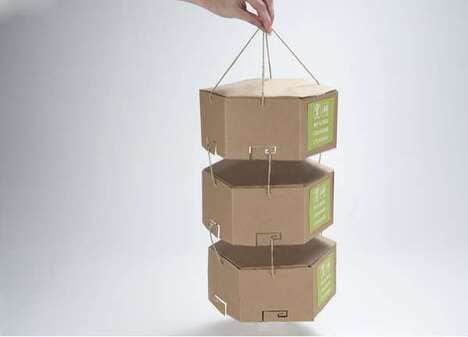 As more consumers become conscious of the effects that their lifestyles can have on the environment, the focus on lower impact products is gaining significant market share and taking this in stride with an eco-friendly packaging design can help a company stay current. Marketing and the environment can seem like relatively opposite realms, but an eco-conscious product package can help to reduce resources needed to manufacture it and draw in potentials customers. There are a few ways to go about honing in on an eco-friendly packaging design that can produce surprising results; Trend Hunter's PRO Trend
Greencasing
touches on a number of the ways that this is happening.
JoAnn Arello
created Chinese take-out packaging that didn't use any harsh plastics or Styrofoam's and kept everything contained without adding any unnecessary materials. The package put everything into one space, which effectively reduced waste, but also encouraged patrons to take their meals to-go because of the way the container became a bowl; convenience with eco-friendly benefits can breed astounding results. This is a great way of eco-friendly packaging design with regards to food, but what about consumer products?
The
Timberland Earthkeepers box
boasts reusability and this factor can hold strong market value in a world where clutter reigns supreme. The Earthkeepers box works like any other shoebox, but is able to easily be folded flat for fast storage. This encourages an otherwise useless piece of packaging to be re-used, which in turn lowers a dependency on extra materials like plastic boxes. Additionally, a nifty unmentioned fact is that a company logo is imprinted onto the box, which means that if it's used for storage it will have lasting power and spend more time in a consumers possession; thus creating a stronger brand connection.
Trend Hunter's
Eco Trend Report
details the kinds of initiatives being put in place around the world with regard to the environment.