The Evolution of Dog Product Marketing from Shabby to Chic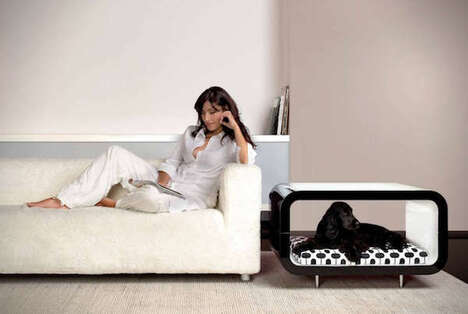 The pet product industry is booming like never before and the way that dog product marketing is being approached is more tailored to a refined lifestyle instead of being rather shabby in style. According to the American Pet Products Association, the 2013 calendar year is estimated to have $55.53 billion in revenue from various pet products across the United States alone. This isn't being taken lightly by savvy designers that are creating products not only for the dog's enjoyment, but also the owner who is sharing their space with a furry friend.
The
Forma Italia 'Suite' furniture series
consists of beautifully crafted daybeds that are designed for cats or dogs and made-to-order. The contemporary silhouette of the bed makes it look like a mod piece of furniture stylish enough for an urban condo, yet the products only come in doggie sizing. It's this interesting style of niche production companies that are catering to discerning pet owners that indeed want to incorporate them into their busy lives, but not give up their décor style in the process. Regardless of how the economy is fairing, dog product marketing has remained a lucrative industry for several years and doesn't show signs of slowing.
The above and various other examples of how dog product marketing is evolving to cater to any and all owners in a luxurious manner is discussed in Trend Hunter's PRO Trend
Modernized Pet
. Pet ownership has experienced a massive influx over the past decade and the American Pet Products Association surveyed to discover that a whopping 72.9 million homes in the United States have some form of pet. It's fascinating to see how product designers and marketers are meeting and exceeding customer expectations by offering some unexpected styles. Long gone are the days of simply owning a pet; now, consumers are welcoming another member into the family that is worthy of custom furniture and gourmet food.
Check out Trend Hunter's
Pet Trend Report
for more information on the ways that animals are being treated to the good life and influencing the economy in astounding ways.