The Role of Technology in Improving Customer Experience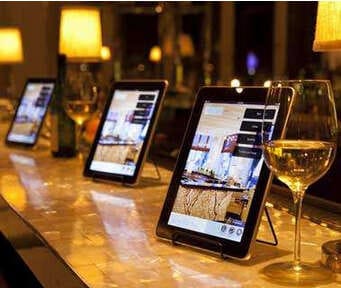 Brands, particularly those involved in selling products, are always on the lookout for new and innovative ways to improve customer experience. The experience of customers has changed rapidly over the years, and there's no denying that technology has played a huge part in making the consumer experience more engaging and generally more enjoyable.
There are a number of ways in which brands can integrate technology into company spaces. Restaurants have been quick to adopt tablets and other portable technologies to streamline the dining process and set their particular brands apart.
Buffalo Wild Wings
essentially replaced waiters with iPads in part of their Toronto locations, and allowed customers to played interactive games as well as order their food and drinks using the device. Though restaurants need not abandon the personal touch of waitstaff in their locations, introducing technology that improves customer experience will almost always result in positive outcomes.
The dining industry isn't the only business realm that's taken to upgrading customer experience through technology. This year, Brazilian clothing chain C&A debuted some cutting-edge
hangers
that made the shopping experience both easier and more interactive. Each hanger was integrated with the company's Facebook page. The hangers would then display the amount of 'likes' a garment received, offering anonymous and plentiful feedback to indecisive customers. The integration of this product with social media reflects well on the company, providing an additional service while setting the brand apart from other retailers.
There are a number of ways in which cutting-edge technology can be worked into a traditional sector. Though sometimes expensive, these endeavors can play off in a big way in terms of setting a brand apart and offering customers a unique experience. As technology changes, the way in which companies adopt said products will adapt as well.
For more information on integrating technology into businesses, check out Trend Hunter's
Business Trend Report
.