3 Advantages of Counter Culture Marketing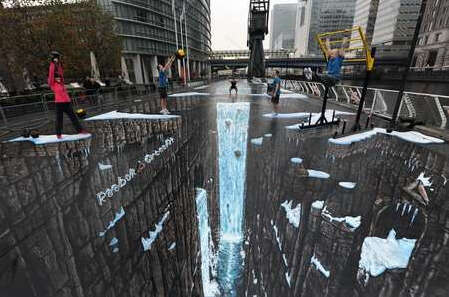 Unlike subversive or shock marketing, which are strategies quite blatantly developed to be off-putting to audiences, counter culture marketing is an approach that stands apart in a way that's not necessarily offensive to viewers. One of the most cleverly executed ways brands have approached this strategy has been through adopting the styles and event the talent of sub cultures like street art. Here are some reasons and examples of how this approach can be effective.
Consumer interest in subversive content has been proven many times, whether it be the popularity of
dystopic art
or advertising that makes strong social critiques. One of the most clever adaptations of counter-culture fascinations came from Reebok CrossFit and artists Joe and Max 3D. The team turned London's Canary Wharf into the world's largest 3D
painting
to promote Reebok's CrossFit program, generating a great deal of interest while aligning the brand with the allure of street art culture. The campaign not only drew visitors to the scene, but received strong media coverage for the groundbreaking work. Though counter culture itself doesn't necessarily appeal to all sorts of demographics, a brand can strategically adopt strategies related to counter culture to create incredibly interesting campaigns.
Putting street art counter culture front and center, Converse sponsored an event in China called '
Off Canvas
,' which celebrated and showed off the talents of street artists from around the world. Capitalizing on the fascination surrounding this type of creativity and the hype around it. By introducing and representing this subculture front and center, and supporting those within it, Converse's approach added some credibility to their image as being related to counter culture.
As part of its
Real Beauty Campaign
, Dove recently revealed a rather complex campaign wherein they were able to transform web pages to reveal reverted images of models who had been photoshopped. Aiming to take a stand against the photo manipulation that's become the norm in advertising, this savvy strategy not only showed that Dove can use technology in an innovative way, but creates a stronger trust between the company and its followers. This sort of action established Dove as an undercover guide in a market filled with brands that shouldn't be trusted, and was brilliant in terms of establishing a stronger connection to consumers.
Counter culture marketing can be tricky, but when executed correctly, can improve a brand's image with credibility and trust. For more information regarding this and other effective marketing trends, check out Trend Hunter's
Marketing Trend Report
.