Creative Ways Brands Are Using Augmented Reality in Advertising
Related Trend Reports
AI
,
Business
,
Fashion
,
Gadgets
,
Games
,
Interactive
,
Lifestyle
,
Marketing
,
Mobile
,
Retail
,
Science
,
Social Media
,
Tech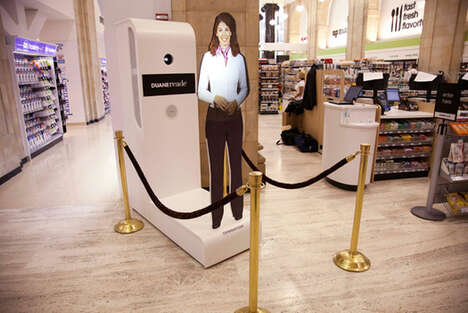 While augmented reality has been in existence for over 40 years, it's only now that marketers have begun seriously using augmented reality in advertising. Augmented reality allows brands to create richer and more interactive experiences with customers, and if an AR campaign is successful -- it entices the consumer in such a way that it boosts the brand in his or her mind -- the campaign stands to help build brand loyalty. Considering that 472 million mobile phones were sold worldwide in 2011, mobile AR, especially, is becoming a growing platform for marketing messages. A study by Juniper Research reported that global revenues for AR apps may reach $1.5 billion by 2015!
What are some creative ways brands are using augmented reality in advertising? Some are engaging customers through location-based AR campaigns, such as the campaign launched by the shoe brand Airwalk. The company released an app that allowed consumers to see a "floating"
Airwalk shoe
at specific sites and receive special discounts if they snapped a photo and shared it with their friends. In contrast,
Domino's
used augmented reality on its billboards and posters, encouraging passersby to use their mobiles to scan the posters for a special deal.
Another engaging campaign was the one launched by Starbucks for Valentine's day. The coffee brand launched an app that enabled users to see a cute image when they scanned their special Valentine's Day cups, as well as create romantic messages to send to their loved ones. Volkswagen also launched an interactive and informational AR campaign in Singapore. It created an ad that users could "launch" via their phones to explore the features of Volkswagen's newest car models, as well as virtually "test drive" the cars. The outdoor apparel brand Moosejaw also got crafty -- and a bit risque -- with its augmented reality
catalog
. In an attempt to make outerwear a bit more exciting, the applet users "strip" the models in the catalog down to their undies by scanning the images on their iPad or iPhone.
The above examples only skim the surface -- there are innumerable ways brands and marketers are using augmented reality in advertising. To get even more examples, make sure to download Trend Hunter's
Interactive Trend Report
and
Phones Trend Report
, both of which uncover creative augmented reality ideas and tactics used by brands today to capture consumer attention.