4 Shock Branding Techniques That Stick with Consumers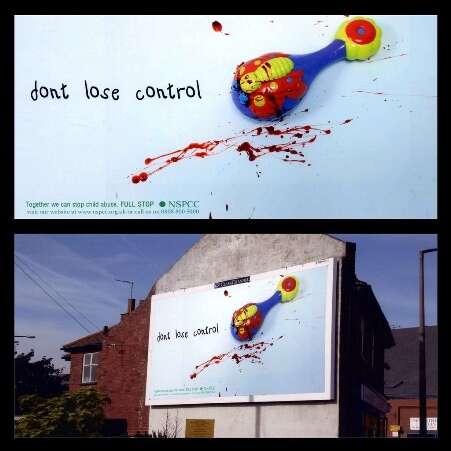 Shock branding techniques in advertising are used to stir emotions within viewers and make a lasting impression. Some push the limits and are considered too racy for the public eye, while others dance the line between acceptable and scandalous. Trend Hunter has seen an array of examples, from drunken baby advertising to sacrilegious Playboy posters, all of which have piqued consumer attention. The following are five themes from shock branding techniques that will help companies brainstorm when creating their next marketing campaign.
1)
Fear marketing
. This taps into the consumer fear of embarrassment, uncovering certain social faux paus that individuals avoid.
Gold's Gym
used this technique by featuring ads that mocked obesity, showing a man with overstretched clothes and personified belts stressed from the strain. These images stir anxiety among viewers, as it highlights overweight individuals and their alienation in society.
2)
Morbid appeal
. Images of death tap into viewers' fear of the unknown. These morbid depictions remind onlookers that life does not last forever, and brands can capitalize on these consumer sentiments. Combining scenes of death along with blood and gore is especially effective, as seen with the
PETA slaughtered human
campaign featuring lifeless bloody bodies wrapped in plastic.
3)
Erotic Allure
. A favorite among shock branding techniques, nudity and eroticism are two ways to garner attention instantly. One such ad by Dolce and Gabbana features a pinned-down, stiletto-wearing model, surrounded by sexually charged men. Although this caused a stir, it was not banned and D&G's sales actually increased by 21% by the end of March 2008.
4)
Violence
. Some of the most famous (and controversial) ads featuring violent imagery come from high-end fashion houses. Jimmy Choo ran an ad in 2006 featuring a model waiting in the trunk of a car while musician Quincy Jones dug her grave. Another from Calvin Klein featuring Lara Stone was forced to be taken down in 2010, as onlookers worried that its contents supported violence and rape against women. Although not accepted by all, both of these examples gained publicity for the companies who are still two of the top leaders in their industries.
To learn more about shock branding techniques, our
Marketing Trend Report
dives into the details behind these methods.