Innovating on an International Level (INTERVIEW)
Sandra Aris, VP of Design, Crocs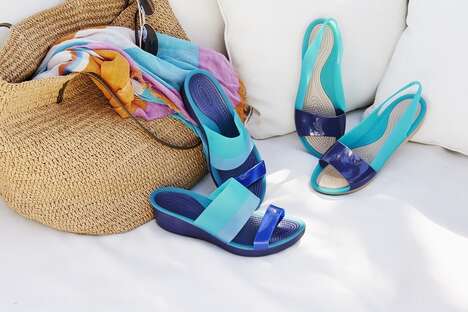 Crocs is a brand synonymous with comfort and style, which are two design elements that VP of design Sandra Aris is consistently looking to find a balance of when thinking about the brand's next innovation. As the idea of casual style continues to permeate the fashion world on a global level, Aris and Crocs are helping to switch up perceptions of how to reach consumers on a global level with designs that are familiar yet fresh.
7 Questions with Sandra Aris:
1. How do you motivate your team to generate good ideas?
The team is always thinking about the purpose of our company; why are we here and what is our mission? We're always looking to identify an opportunity and find a creative solution, which is motivating in and of itself.
2. What is the biggest challenge you face when innovating?
The biggest challenge of being a creative designer in a global, publicly traded organization such as Crocs is looking to the future while still maintaining a focus on the present. Helping to make the company see what we see as the future and getting them to understand our vision.
3. What makes an innovative culture? How do you create a culture of innovation?
It's giving each team member a really great understanding of the business strategy and supporting them to get an idea of what it will take to drive their product to a successful place.
4. What upcoming projects are you most excited about?
I really love what we have happening in the product line that surrounds the color blocking trend. It's beautiful while still being easy to wear, which is at the heart of our brand.
5. What are some of the challenges you're trying to solve?
We are a brand that's doing business on an international scale with people of all ages and nationalities. We're always striving to deliver the best product and bring comfort to all, which requires overcoming many hurdles in the process.
6. Is there a seemingly unrelated industry that you and your team are most inspired by?
We're inspired by our consumer. Our consumer is contemporary and likes being comfortable. The traveling family is inspiring because of how mom, dad and the children each vary, but how they are all driven by similar wants. We're inspired by our consumer to deliver a product that will help them do everything that they love.
7. Where do you think the future of your industry is heading?
Style is perceived as not being that comfortable. People are wearing more casual styles today and the whole idea of a comfortable lifestyle is really leading the movement.
8. Is there anything you'd like readers to know about the brand?
We are so much more than just a clog!