Technology is Getting a Retro Revival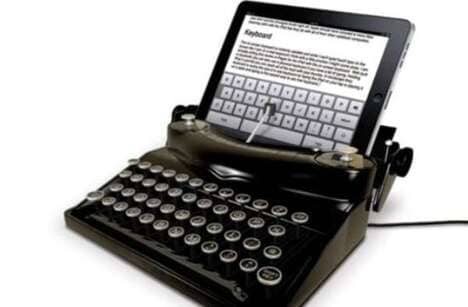 While the latest gadgets tend to be sleek and flashy, many consumers are becoming more attracted to retro-style technology.
Outfitting new products and devices with a vintage vibe will set your products apart from the multitude of shiny gadgets. The
retro media
trend has companies reinventing their image to look more edgy and old-fashioned than clean-cut and new. For example, the fashion-forward store Urban Outfitters, one of the biggest sellers of hip urban attire came out with an
iPod Boombox
. This type of retro style item appeals to consumers because they want to partake in the novelty of a romanticized culture of years past.
Retrofitted cases and accessories cater to consumers who like to keep up with all the latest and greatest gadgets, but don't want to have the exact same product as everyone else. They can outfit their gear with nostalgic designs with items such as the
Typescreen tablet accessory
that turns a modern tablet into a vintage-looking typewriter. One might think that this form of retro technology is actually a regression of progress considering it is much more convenient to type using a keyboard or touch-pad than temperamental typewriters. However, many tech-savvy consumers are attracted to faux antiquated accessories, which provide them with an unconventional experience.
Be sure to check out Trend Hunter's
Tech Trend Report
for more technology and gadget trends.