Retro Product Design and How It Can Help Your Brand Stand Out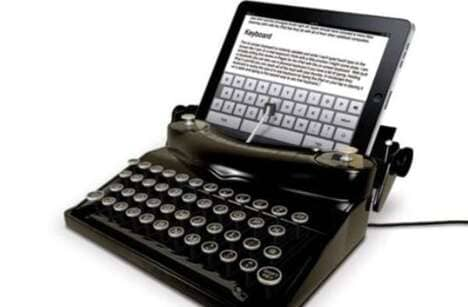 Retro product design is an approach that's taken many industries -- particularly fashion and technology -- by storm. It seems that nostalgia is appealing to many kinds of consumers, and serves as somewhat of a clever juxtaposition when it comes to making products stand out. Here's some reasons why this type of approach to design is popular with so many brands.
It sets brands apart.
Many companies turn to nostalgic design as a way to define themselves from competition. Doing so presents a relatively straightforward way of appealing to customers' nostalgic sensibilities. The
Typescreen
, a very unusual looking iPad accessory, is a great example of this. With a design that made the product look like an actual typewriter when in use, the unusual appearance of this product not only sets it far apart from competing products, but earned the company a great deal of coverage based on how unique the design was as well. The beauty of retro design is that it incorporates tried and tested aesthetics mixed with more modern technology in most cases, giving consumers good reason to consider a product designed in this way.
It creates a more emotional connection.
The beauty of nostalgic product design is that it brings together two things that consumers can appreciate: familiarity and innovation. Tapping into a retro aesthetic is appealing to many based on familiarity and style, and when executed properly, communicates a more genuine, trustworthy brand message that appeals to many consumers. This is especially powerful when paired with a product that performs in a futuristic and technologically advanced way, like the
Smeg Oven
. Built with incredible features which made it more energy efficient, this oven was sold with a design that referenced the past. Simultaneously appealing to consumer's aesthetic preferences while providing the best available technology, this product offered the best of both worlds.
It's consistently popular.
Nostalgic product design is a remarkably consistent design trend. Compared to other forms of design, retro is a style that seems to constantly appeal to consumers, which is why many brands like A&W have built entire brands around a nostalgic message. This approach to design has proven staying power, and will likely continue to serve brands well provided that the approach is executed properly and with tact.
For more information on innovative product design and more, be sure to check out Trend Hunter's
Design Trend Report
for more in depth insights.