Why Non-Digital Productivity Solutions are the Most Encouraging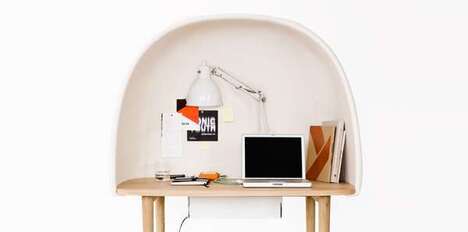 Finding productivity solutions that will help encourage employees to keep going strong can be difficult, but recognizing the staying power that some of the most low-tech options have can breed surprising results. The market is flooded with innovative options that boast cutting-edge design qualities and unexpected approaches to helping employees reset their creativity, and there is no reason they should go unnoticed. However, recognizing what a non-electronic productivity solution can have might add a little bit extra support when stress runs high.
The
Rewrite by Gam Fratesi
is a desk that resembles a study carrel that would be found in a university library or dorm room. It helps to enclose the worker in their own space without the need for additional cubicle-style walls within the office setting. The design sections the worker in to a small alcove-like enclosure, which is a great option for busy offices that boast open concepts where work can sometimes be difficult to get done. However, the desk doesn't go as far as cubicles do by completely closing in the worker: it encourages them to stand up, stretch and take a break. It does so without any clocks or alarms because it works with the mind's rhythm to evenly designate focus between work and play. This and other neutrally designed escritoires are covered in Trend Hunter's
Design Trend Report
that is brimming with the latest in modern furniture and beyond.
There are a plethora of different products that encourage relaxation within the workspace from the
1.6 sm of Life
that features a built-in nap space to the
Tisettanta Nu-Ovo
that encapsulates the worker in their own semi-private abode while on the clock. It's important to remember that while the office is indeed a place for work, recognizing the need for analog productivity solutions will help everyone to reset and produce at manageable speeds.