Anticipating Relevancy in Innovation
John Koch, VP of Product Innovation and Flavour Solutions
Related Trend Reports
Art & Design
,
Bizarre
,
Design
,
Drinking
,
Food
,
Gadgets
,
Health
,
Lifestyle
,
Social Good
,
Tech
,
Unique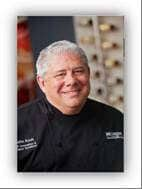 As a maker of premium syrups, gourmet sauces, smoothies, cocktails and liqueurs since 1912, Monin has approached product innovation in a manner as adaptable as the epochal palettes of people's tastes spanning over 100 years. As Vice President of Product Innovation and Flavour Solutions for the Americas, John Koch focuses on both research and development and flavour applications, creating captivating, delectable liquid solutions for consumers.
As a veteran of innovation – he has worked in the past at organizations like Burger King, Applebee's and Olive Garden in similar roles – Koch sees innovation through two lenses. The first is identifying specific consumer needs, reacting to those demands and solving them. The second involves recognizing what products Monin needs to incorporate in its portfolio, and ensuring its relevance among a consumer base when it is prepared to be unveiled.
For Koch, the anticipation of relevant consumer needs, whether in the fine dining or QSR space, before they become pertinent is a key focus, making innovation all the more important for a company built on a strong legacy of novelty.
4 Questions with John.
1. How does your team generate new ideas?
We have a well-defined process, but the first thing that's worth discussing is that Monin doesn't see itself as a beverage company, so much as we see ourselves as a customer solutions company. The first step we have to do before anything happens is firmly understand what it is we're trying to accomplish. We'll say, here's the problem as we understand it, and if we could wave a magic wand and solve this problem, what exactly would that look like. Once we've got the problem thoroughly defined, then we start going through our step-by-step process. We have two ways of looking at innovation; we have innovation to solve a specific consumer need, and then we have innovation to create the next product or flavor that Monin needs to have in its portfolio. Sometimes those are different things because a specific customer could have a very specific problem that needs a solution tailored to their circumstance, and the needs of Monin as a company could be different from that.
2. How does Monin try and anticipate consumer needs that fits its portfolio?
For us, we try and see what the global macro trends are and what's happening in the world. We're focusing not so much on what the trend is today but what the next trends are going to be and how can we deliver a product that will be relevant when we have it ready. We start by considering trends like health and wellness, convenience, connection etc. and how those trends manifest themselves in the marketplace and ultimately how that translates to what we do … We collect data from a large number of sources and then synthesize all that we've learned to find where the common links are – taking movements from the macro trend level and analyzing what all these indicators tell us will happen tomorrow. When we see synergies there, we start bucketing those and ultimately move on to whatever is next. We conduct a number of product tests before we take it to the market place, and by the time we've got it there, we are confident that there is a proven consumer need before we produce the product.
3. What makes an innovative culture, and how do you go about creating one?
For us at Monin, the company was essentially founded on product innovation. [The Founder] Georges Monin, who first created our syrups, came to market with a product that was new (in it's time) – a flavouring for water – then over time, the company and it's customers realized that there are a number of different things that you flavor with it. Everything we've done has basically been predicated on product innovation at this company. Here at Monin, I think what creates the innovative environment is our diversity. We have a very diverse team with differing ages, backgrounds and experiences, and we are a very flat organization where everyone's encouraged to participate, so innovation becomes organic. This group represents a tremendous amount of experience in our industry and in the marketplace. They are always encouraged to share ideas about how to make things better. The innovation culture to me is just a fall out of the company culture – the two are really inseparable – and I find that that's true anywhere. I've worked at a number of places, and if a company is truly an open, innovative and progressive-thinking company, then the innovation team within that company is going to be very successful because they're already set up to succeed. But if you've got a company that treats innovation as just another job function, and doesn't cultivate an open, free thinking style, it's going to be more difficult for that team to create a space to be successful in.
4. How is Monin going to be a leader in innovation?
I think what makes us different and will continue to differentiate us, is our above-and-beyond service level that includes product innovation, but it's not limited to that. We get up everyday and say, 'How are we going to solve problems for our customers,' so when they turn to us, we can hand back a turnkey solution. As long as we stay focused on problem-solving mission for our customers (before or after they ask), I believe we'll have business success. It doesn't matter if we're making syrups or a completely different product somewhere down the line because what we make is dictated by the needs of the customers. It's all about making sure that our number one objective is to hear what our customers need or proactively seeking out what is needed in the marketplace and being focused on seeking those solutions.