Collaborative Design Processes (INTERVIEW)
John Muscat and Jennifer Wells, Owners, Line Knitwear
Related Trend Reports
Art & Design
,
Celeb Fashion
,
Fashion
,
Fashion for Men
,
Food
,
Hip Fashion
,
Lifestyle
,
Luxury
,
Marketing
,
Media
,
Photography
,
Pop Culture
,
Regional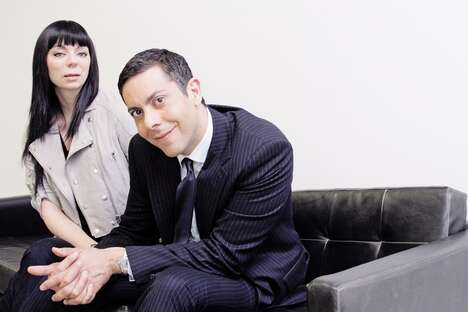 After meeting 20 years ago, John Muscat and Jennifer Wells knew immediately that they wanted to work together. They waited until they were truly ready to open a business, and 12 years ago they created Line Knitwear. Line Knitwear is the go-to brand for exquisite pieces and intricately crafted knits. Also known for their incredible draping and detail, this design powerhouse duo has been able to create a remarkable brand, full of stunning, and practical clothes.
3 Questions with John and Jennifer
1. How does your team generate new ideas?
I think putting together a great design team is important. You need to have three different areas. The first is the expert (Jen), who knows the vision and what they want out of the collection. The second is the collaborator; this person will help to bounce ideas around with the expert. The final person is the one that brings the tension, and in our case, the consultant. We also have a trend forecaster who brings in the ideas. Then, I (John) come in and turn it all upside down; my role is to critically analyze the pieces from a sales perspective. Having this type of team is very conducive to coming up with new ideas.
2. What is the biggest challenge you face when innovating?
The biggest challenge that we face is being original. I remember we created a garment a few years ago that was completely original, and it probably sold 150,000 units. It became a global trend. When you have a home run it's great, but you can't base your business off of home runs. Another challenge is the constant competition from the mass market, and the fact that you're always guessing what other people are going to buy.
3. What makes an innovative culture? How do you create a culture of innovation?
An open dialogue that's filled with no fear, and asking everyone that you feel is relevant for their opinions. You always need to maintain your vision. You have to have conviction in your ideas, but still ask for opinions. Also, getting people to trust you and to try something new is key. When people are willing to try something new, that is when you move forward as a company.