What Pinterest's Updates Mean for Your Team's Image-Based Marketing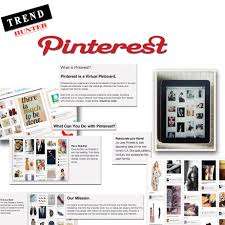 Pinterest has become a valuable asset in the world of visual marketing, generating
41% of e-commerce traffic
and propagating more than twice the amount of Facebook's e-commerce. Despite it's smaller size, Pinterest has a high level of success which can be attributed to its captivating visual platform. The site has already announced its plan to subtly introduce sponsored posts, which will focus on benefiting small business. However, Pinterest also plans to launch a 'Related Pins' feature to help users find content that they enjoy. Related pins differ from sponsored pins in that they are randomly selected and not necessarily subsidized.
The site compiles data from user activity, such as which pins they've liked, saved or repinned, and utilizes it to make informed suggestions on similar material. Of course, the site is receptive to user feedback; users can "thumbs up" or "thumbs down" a recommended pin. Giving a thumbs down will remove the offending pin from users' feed, and the site will have more data to figure out individual likes and dislikes. On the flip side, the "thumbs up" will give Pinterest the go-ahead to continue posting comparable content to your home page. The more feedback received, the more tailored the Related Pins tool will be to particular, individual activity.
The Related Pins feature helps cut down searching time, especially for those who entertain eclectic, niche interests that aren't always accessible. Of course, there is the concern that the Related Pins tool will cause more harm than good by inundating user feeds with material that they may or may not find interesting. However, assuming the tool is relatively unobtrusive to users typical pinning practices, it has the potential to be a pragmatic apparatus to the site because easier browsing and navigation are favored by users.
Furthermore, the Related Pins make the site better optimized for big business in that it has the capacity to boost referral traffic. In fact, according to data from
Shareoholic
, in Semptember 2013 Pinterest drove three times as much traffic as twitter, a total of 3.68%. And Pinterest shows no signs of slowing, exhibiting a 66% growth. The related pins tool has the potential to further the growth, expansion and referral capabilities of the site.
The
Social Media Trend Report
can offer more insight on the potential of social media platforms as business tools.