How High-Tech Marketing Tactics Can Elevate Your Brand
Related Trend Reports
Branding
,
Computers
,
Drinking
,
Fashion
,
Food
,
Gadgets
,
Games
,
Interactive
,
Marketing
,
Mobile
,
Multimedia
,
Pop Culture
,
Retail
,
Social Media
,
Tech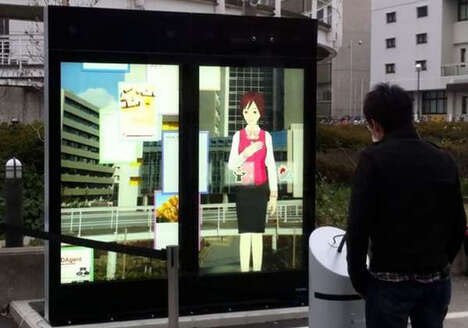 Over the years, brands have developed a number of ways to make themselves standout, but high-tech marketing has elevated this practice to the next level. Though shock marketing tactics grab the eyes of viewers, many overtly provocative campaigns serve only to reflect poorly on a brand, showing a lack of judgment or taste. As Trend Hunter's
Marketing Trend Report
shows, high-tech marketing appeals to consumer's curiosity in the same way, but does so without making audiences uncomfortable.
The Nagoya Institute of Technology in Japan attracted visitors with its groundbreaking
Mei-Chan 3D Guide
. This guide appeared like a real-life anime character, and provided geological guidance to visitors in a surprisingly humanized way. Helping people with both a valuable service and incredibly intriguing experience, this innovation made people more likely to visit the campus. Balancing novelty with actual consumer needs, the Mei-Chan 3D Guide is a shining example of how high-tech marketing can draw attention to your brand, product or service.
QR codes have led many companies to develop highly innovative and name-making marketing strategies. One of the most widely recognized approaches to adopting this technology was the
virtual subway grocery store
by Korean brand Homeplus. The brand jumped on this opportunity long before QR codes were widely popular, and the campaign involved a subway station in Seoul that allowed consumers to virtually order and pay for their grocery goods. To make the station even more like an actual grocery store, the brand included photos of the products available. The campaign and retail strategy became a news story in and of itself, and Homeplus became an internationally known brand that had clearly demonstrated its technologically savvy abilities. Though this campaign worked especially well in Korea, where cell phones receive reception in the underground subway and a great deal of the country is familiar with QR technology, a similar strategy could easily be adopted to other areas. This approach highlights the potential convenience of high-tech marketing, and shows how a strongly innovative campaign can put your brand on the map.
High tech campaigns can be tricky, but get positive attention and portray businesses in an innovative light.