Two-in-One: Enhancing Product Design With Adaptable Features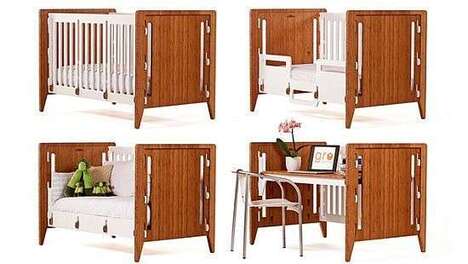 When it comes to design, two is almost always better than one, which is why enhancing product design by making a creation dual-purpose can help attract potential customers and promote lasting quality. We live in a world that is constantly changing and consumers are on a consistent hunt for products that will outlast others. As such, products that can adapt to a changing environment are gaining market share for having the ability to stand the test of time.
Children's furniture is a multi-million dollar industry that caters to new parents and large families. However, a resonating shift is taking place in the market as more and more consumers are looking for products that will grow with a child instead of lasting only a short while. This is discussed in Trend Hunter's PRO Trend
Kidaptive Design
, which dives deep into the kinds of products that will safely last a little one for many years to come.
The
GRO Furniture Modular Crib
boasts a design aesthetic that will surely please discerning parents because it effortlessly evolves with a child. Starting off as a baby bed, the Modular Crib is then easily transformed into an in-between bed, then small day bed and finally a desk: four uses in one clever design. The product's design was enhanced with only a few minor adjustments that included adding slats on the side for easily changing the level of the sleeping or work surface and continually reusing parts instead of brushing them off as useless refuse.
The process of enhancing a product's design aesthetic is tricky, but Trend Hunter's
Design Trend Report
identifies the key ideas at work within the market that can help incite innovation during development.