Consumer-Focused Mindsets
Sheryl Connelly, Manager of Global Trends & Futuring at Ford
Related Trend Reports
AI
,
Art & Design
,
Business
,
Credit Crunch
,
Design
,
Eco
,
Gadgets
,
Lifestyle
,
Luxury
,
Marketing
,
Mobile
,
Pop Culture
,
Robots
,
Science
,
Tech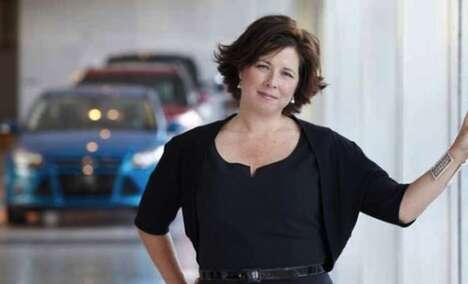 One of the many responsibilities for Sheryl Connelly, Manager of Global Trends and Futuring at Ford Motor Company, is to suss out trends that will hopefully "influence consumers' values, attitudes and behaviors." With her superior research and analytical skills, combined with a keen ability to communicate, Connelly must determine what information will most impact future products. We spoke with Connelly to get her take on global trends, their value and how to enhance insight through consumer-based data.
5 Questions with Sheryl Connelly
1. Do you have any specific rituals for re-setting yourself to be creative?
Before I joined Ford I studied law, business and finance. I originally wanted to study art; I wanted to be an artist but didn't pursue it because I thought the income wouldn't be stable. I still have this great passion for art. A lot of my notes are filled with pictures and verbatim text. It's a great way for me to engage the left and right sides of my brain. My artistic side helps me look at the bigger picture and think beyond what is said.
2. How do you motivate yourself and your team to come up with good ideas?
I work on a team comprised of eight people. We're 100% committed to global trends and futuring at Ford. We don't work alone, and often collaborate with other areas of the organization. I feel like I have the best job at Ford, so that's motivation enough. There's a real admiration for the brand though, especially for me since I grew up in the Detroit area. Even though my background is rooted in law, business and finance, it helps motivate me to develop a specific point of view and enables me to formulate arguments and have a persuasive case.
3. What resources do you use to spot trends from competitor innovation?
We have another team -- the competitive intelligence team -- that tracks our competition. Personally, I spend about 90% of my time reading and scanning information, sharpening my pattern recognition skills. For my team, we have a database of trends that we can mine. I can say that in the past I used the database more often. Recently, we've been eliminating most of our outside sources. I've started to use funds to attend conferences, thought leadership conferences, like TED. It's a great starting point for inspiration. And while there are great speakers and great ideas to soak in at these conferences, it's not always about the speakers but who attends. In a post-recession world, information is viewed as a status symbol.
4. How do you create a culture of innovation?
Well I think it comes from our top leadership. In the time frame of 2005-2006, we were in dire straits. We took out an extraordinary loan, and it was make or break moment for us. We completely revamped our portfolio with that capital. And it was a mandate that came down from the CEO, Alan Mulally. Even during the recession we supported competitor bailouts. The public response to Ford for not taking a bailout was favorable and beyond expectations, and I think it caused a lot of consumers to think twice about the brand. So the mandate for innovation at Ford is huge.
5. In what ways are you actively investing to enhance innovation at Ford?
You can never be satisfied nor become complacent. We're putting an extensive effort into innovation and product development more than ever before. For us, it's about innovation that's accessible. With our products, we want to democratize things like technology and set it at an affordable price point. We're about innovations that are game-changers and accessible to the masses.