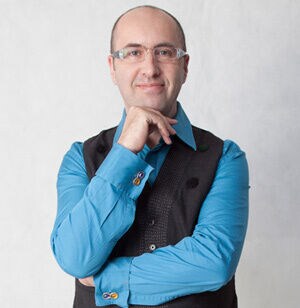 If you're looking to get a fresh selection of the very best in marketing cherry-picked for you, look no further than Confessions of a Digital Adman. Insights on the blog come from creative veteran Chris Jones, who has spent more than a decade between global cities like Amsterdam to Hong Kong, Sydney to Paris as a digital creative director. Having worked with brands like IBM, Philips, Unilever, McDonald's and Volkswagen—to name a few—Jones is now stationed at Wunderman Shanghai as Executive Creative Director. On occasion, Jones lends his expertise to judge festivals like Cannes Cyber Lions and can be found speaking at events and conferences across Asia and Europe.

Remarking that he has "Witnessed the rise and fall… and rise again of interactive marketing," the content curated on Confessions of a Digital Adman provides a good indication of what the future of marketing holds as far as what will emerge, fall and rise again.

6 Questions with Chris Jones

1. What is the mission of your blog?

To start with it was purely for selfish reasons. I wanted to get a more exciting job and thought that the first step was to be more visible. Show that I was an industry expert with a point of view. It actually worked. Now it is mostly an exercise in self discipline to make sure I stay up to date on what is happening.

2. As a blogger, what is the biggest challenge you face?

Time is the biggest problem. With a demanding full-time job and a family life to occupy the rest of your hours it is really hard to find time to stay up to date with the latest happenings in the industry. With so many things on the to-do list it's hard to find a moment to share your own viewpoints.

3. How do you stay on top of the cutting edge?

I make time every day to read up on the latest happenings. Flipboard has been a huge help as it curates the best articles into one place. I'm also a big fan of Contagious and luckily have a subscription to their feed.

4. How do you reset to be creative?

You need to distract yourself to let your subconscious bubble up to the surface. Just go out for a walk, get away from your desk and away from technology. Try not to think and suddenly the ideas start flowing again.

5. Are there any adjacent industries outside your own that you actively source for inspiration?

I am something of a culture sponge when it comes to any creative industry and love reading about architecture, industrial design, fashion and the art world. If we just stick to our own industry we limit ourselves. I go even further and love reading about quantum physics, the singularity and other inspiring topics. Everything has some value to inspire ideas.

6. Where do you see the future of blogs heading?

I hope to see less random brain dumping and more thoughtful blogging. It's still an evolving art form and once the masses get tired of sharing their opinions only the better bloggers will remain. The ones with real passion.
References: wunderman and digitaladman