Pushing to Create the Unexpected
Carlo Giordanetti, Creative Director, Swatch
Related Trend Reports
Art & Design
,
Computers
,
Design
,
Fashion
,
Gadgets
,
Health
,
Inventions
,
Lifestyle
,
Luxury
,
Marketing
,
Mobile
,
Multimedia
,
Pop Culture
,
Tech
,
Unique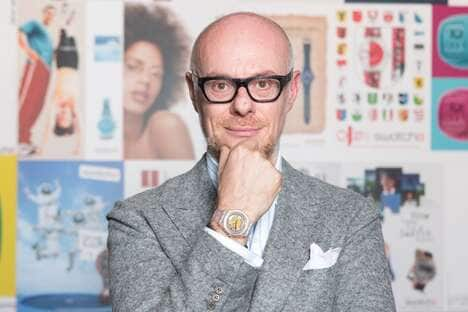 There is no name more revered in the watch making business than Swatch. Founded in 1983, this company has created some of the most interesting, beautiful and innovative watches consumers have ever seen. Carlo Giordanetti, the Creative Director, has a fun approach to work, and is focused on forcing his team to step outside of the box. Creating a cohesive, yet fun, message is no easy task, however, Carlo and the team at Swatch do so flawlessly. With exciting releases coming soon, fans of this iconic brand will be on the edge of their seats waiting to see what's next.
4 Questions with Carlo Giordanetti
1. How does your team generate new ideas?
For me, the best way to generate new ideas is by travelling. I use travel in both a literal, and figurative sense. I read a lot, and I use reading as a way to travel. I love reading print, and the gesture of turning pages puts me in a researching mood. Coming up with ideas is an ongoing job. You have to see the idea, execute it and tell the story. Every season, my team designs a mood. Every product has to have a story, and if it doesn't, we don't choose it. Each watch has to have a message, even if the message is just a color, something has to be there.
2. How do you identify trends? What resources does your team use to spot trends and consumer insights?
I think there is a way to identify trends that comes from inspiration when you work in the fashion industry. When you have been in the industry for a while, you begin to gain an inherent knowledge that comes with each season. A lot of us have the same style of references available, and what really counts is how you interpret that information. For us, we start to work on our watches almost 2 years in advance. We don't get to see runways or trend forecasts before we've already begun to create our designs. Sometimes, we get it right on trend. In general, this is one of those things that you don't really learn how to do, you have to feel it and know it's right.
3. What makes an innovative culture? How do you create a culture of innovation?
The culture of innovation comes from the DNA within our brand. When Swatch was created, one of the key phrases in the brand concept was 'constant innovation.' We are on a challenge to constantly create something new. It doesn't need to be major, but just something new. Since Swatch began, we have made over 6,500 different watches, and the daily challenge is to make sure we aren't repeating ourselves. Swatch, as a company, is very fortunate because we are a part of the Swatch Group. We are a part of an organization that has companies that work in a multitude of fields that include designers and engineers, and this gives us fresh perspectives. Being innovative is also in the DNA of our Chairman. We have always been pushed to not be boring and to not to do what's expected.
4. Looking to the future, how will Swatch continue to be a leader in innovation?
I believe that if we keep fighting for, and coming up with new ideas, we will continue to be innovative. In the short term, we have the SISTEM51 watch release, which is exciting because it's a mechanical watch with 51 parts. In the meantime, we will continue to work on new and exciting stories.