Delivering Quality Goods
Brad Armistead, VP of Marketing and Innovation, Dogswell
Related Trend Reports
Commercials
,
Fashion
,
Inventions
,
Lifestyle
,
Marketing
,
New Ventures
,
Pets
,
Pop Culture
,
Print
,
Toys
,
Unique
,
Youth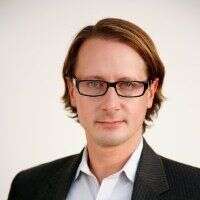 Brad Armistead is the Vice President of Marketing and Innovation at Dogswell. Brad's experience includes brand marketing, trade marketing and new product development. He has been at Dogswell for a year and a half. Dogswell specializes in super premium pet food and treats. The company is built on the belief that better nutrition leads to longer, healthier and happier lives for pets.
Three questions with Brad Armistead:

How does your team generate new ideas?
At Dogswell, we believe good ideas can come from anywhere. Most of our employees have dogs, and we bring the dogs into the workplace. As a company, we encourage our team to get outside and feel that joyful uninhibited spirit that makes dogs special.
What makes an innovative culture? How do you create a culture of innovation?

We realize that our work to give dogs the best possible food and treats is never done! We pride ourselves on being the first and best at delivering protein forward food and treats that are holistically healthy and delicious. We have that ongoing passion and commitment to pushing the boundaries and never cutting corners.
Looking to the future, how is Dogswell going to be a leader in innovation?

Our leadership position starts with understanding consumers -- not only talking with them, but observing them with their dogs. We're also the first to develop a line of food that doesn't contain grains or potatoes. Additionally, we built this company on treats with a functional benefit and consumer demand led us to the food category. We believe in good nutrition and a healthy diet for your dog -- not junk food. It's an entirely different way of thinking about treats.