Boost Productivity in the Office by Prioritizing Rest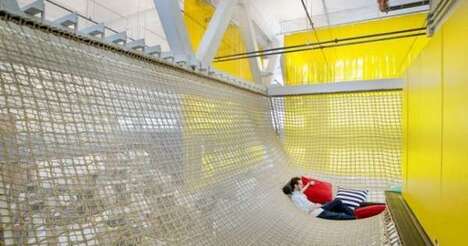 There are various methods to help boost productivity in the office, but taking a more upstream approach by really getting to the root causes of productivity lags can yield fantastic results. Prioritizing sleep within the office environment can seem like a bit of a strange approach, but doing so in a formal manner can help to put members of the team into a better frame of mind that is ready for action.
Trend Hunter's PRO Trend
Peaceful Productivity
highlights the ways that various manufacturers are creating products that help to rejuvenate workers on-the-job through assisted rest. The
Google Pittsburgh office
boasts an oversized hammock for quick catnaps or having a meeting with coworkers; the installation is simple, effective and rejuvenating for all members of the office. There are a variety of products on the market like the
'1.6 sm of Life'
, which is essentially a desk that features a bed beneath the work surface. Although this is a little more direct, it still addresses the common ailment that can really halt productivity: fatigue.
There are several other instances at work within the business sector when it comes to boosting productivity in the office via restful installations and the Trend Hunter
Business Trend Report
highlights the most cutting-edge examples. A more relaxed approach to office culture is a dynamic concept that is distant from the more stuffy, stressful atmosphere the environment is often associated with. It addresses the resonating shift that's palpable in the industry with regard to work ethic and how going with a more hospitable flow might be the new order of business protocol.