Redefining Standards of Beauty Through Toys
Alita Friedman, Chief Brand Officer, Pretty Ugly LLC
Related Trend Reports
Art & Design
,
Babies
,
Bizarre
,
Celeb Products
,
Celebs
,
Charity
,
Cosmetics
,
Design
,
Health
,
Leaders
,
Life
,
Lifestyle
,
Luxury
,
Marketing
,
Pop Culture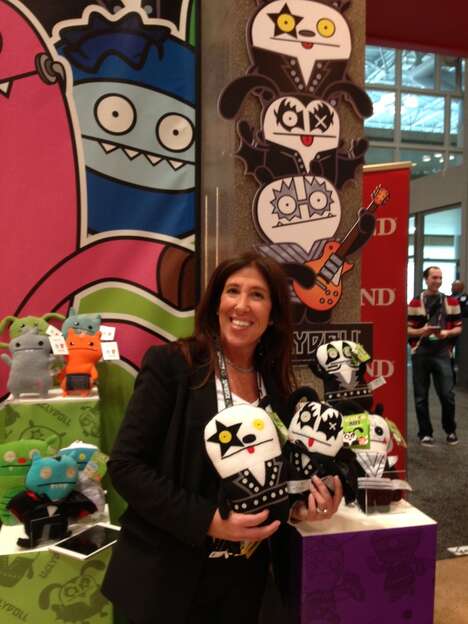 Alita Friedman is the Chief Brand Officer at Pretty Ugly, LLC – the owners of the remarkable Uglydoll plush toy collection. Launched in 2003, the team sought to redefine the meaning of the world "ugly" with their quirky, unique and special toys. The toys were designed to help people celebrate the little qualities that make each of us different without hiding who we are.
Three Questions with Alita
1. How does your team generate new ideas?
We are a very forward thinking group and pay attention to the past as well as the current and the future forecasts. We attend various trade shows and travel worldwide to meet with others regarding comics, books, toys, bedding, t-shirts, bags and accessories, shoes and brand alignments. Over the past two years we started to get into relationships with other brands and mash up some really cool collaborations (ex. Hello Kitty, KISS, DC Comics.)
We travel a lot for our business and wherever we are we're always out and about shopping in retail stores or touring a new city to see what's happening. Fan interaction also plays a huge role in generating new ideas and we get to do that during our Ugly conventions. Our fans are extremely creative so by interacting with them through social media or face-to-face, we gain inspiration. We reach out to many creatively founded companies or brands that resonate with us and in turn we receive calls and emails daily from leading entertainment, technology and consumer product companies looking to collaborate.
2. What is the biggest challenge you face when innovating?
A big challenge we face sometimes is when we find something exciting to develop, but executing it takes a lot more time or resources than we can allocate. New products involve sourcing factories, negotiating pricing, and determining market strategies. We have to consider all these other aspects – taking the original idea all the way through to product concept involves a lot of reevaluation. What's great in a brainstorming meeting is sometimes challenging to execute but we always figure it out! There is always a way!
3. Looking to the future, how is Pretty Ugly, LLC going to be a leader in innovation?
We are partnering with new and innovative companies to be at the forefront of their new product introductions. Uglydoll is going to be a part of leading technology releases. We also plan to jump on the cusp of so many revenue generating entertainment platforms. Entertainment today brings so many ways to reach people and we're evaluating all the options. We used to turn on the TV or go to a movie theater. Now we have a wide array device choices to occupy our free time from the TV's to the laptops to the handhelds to the tablets and game consoles… and we want to be sure Uglydoll is on ALL of them!