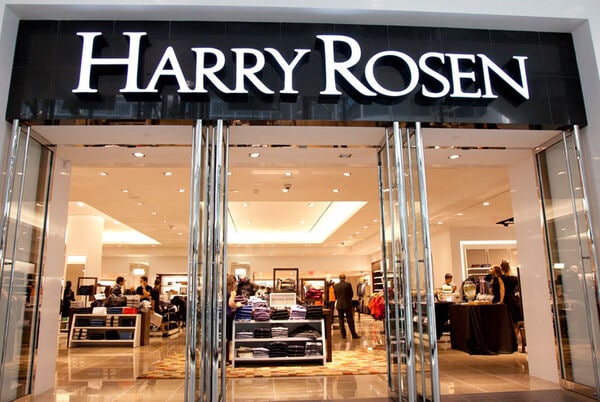 Harry Rosen has been providing Canadians with high-end men's apparel for 61 years and is one of the largest multi-brand menswear retailers in the world, but it is much more than your average suit company. Harry Rosen serves some of Canada's most elite in business, sports, arts and entertainment, and provides an extremely high-end customer experience to match. For this particular demographic, high-end men's fashion is not just about getting a suit for work, it incorporates professional, social, and even leisure attire (e.g. attending the opera). Harry Rosen sales associates are not associates at all, but clothing advisors. They're trained to the highest degree so they can develop a very deep understanding of the customers they serve, providing professional service and advice to help every customer find the clothes they need for any occasion.

Todd Trombley has a long history with Harry Rosen as a consultant performing leadership and coaching and officially joined the family in February as National Sales Director for the organization. In addition to designing programs that continuously improve customer sell through, Todd acts as a bridge between store operations, marketing MIS and buying groups, ensuring the whole company is aligned in their mission.

3 questions with Todd Trombley:

1. What makes an innovative culture? How do you create a culture of innovation at Harry Rosen?
You have to think really hard about what you want your culture to be and then exhibit the behaviors that will contribute to the culture you're trying to cultivate. That relies heavily on top executives within the company leading by example. For us, as a retail company, we want our customers to believe that we respect them – because we do – and that we are here to serve them – because we are. And if we expect our in-store advisors to treat our customers that way, we have to treat those employees with the same respect. This mindset is paying off. Harry Rosen was named as a 'Top Innovator in 2015' by Apparel Magazine and a CIO 100 Award winner, honoring our IT department's high-level of achievement.


2. What is the biggest challenge you face when innovating?
It's easy to get caught up in being innovative just for the sake of innovation. But zoning in on the changes that will actually benefit the company and our customers can be difficult. Fortunately, Larry Rosen, our CEO, is an amazing leader -- very progressive, well-educated, and he understands that all functional areas of the company have to be the most innovative in the industry. Having that understanding at the top ensures that those values flow throughout all facets of our business.

3. Looking to the future, how is Harry Rosen going to be a leader in innovation?
We're going to hear our customers and understand what they require of us; that's really the biggest thing. Because we act as a middle man to bring the best men's clothing in the world to our customers, we have to stay on top of what our vendors are doing to make sure we're aligned. Through these relationships, we provide our customers with a really unique experience. Other than that, we're just going to make sure we keep an ear on both rails of the track and keep providing the exceptional level of customer service that sets Harry Rosen apart.
References: linkedin and harryrosen