3 Ways a Theme Retail Strategy Can Boost Your Brand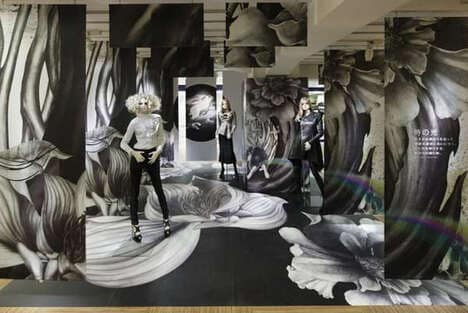 A theme retail strategy, which invites a variety of interpretations, can help a brand stand out. Whether temporary or permanent, a standout retail location design can play a huge part in gaining both more business and coverage.
Though department stores like Barney's have been maintaining a fresh image with the use of seasonal window displays, more newly established retail companies have taken this concept to the next level.
Moon Princes
, a design created for a department store in Tokyo, was a strongly designed full store concept that stretched far beyond the visual strength of a predictable window display. Turning the space into somewhat of an art installation, this endeavor made a visit the department an experience in and of itself, giving consumers and tourists reason to visit the store regardless of whether or not they were to shop.
The '
Mood Swings Apartment
' store, located in Moscow, used a theme retail strategy to further communicate the brand's concept. The store is divided into four sections, each of which are designed to reflect a different aesthetic style of customers. Whether classic or avant-garde, the space helped the store stand apart, and the space itself acted as a strong branding symbol of the company. When a space can act as a physical representation of your brand's goals, a company can resonate more strongly with its target audience while standing out.
Aether Apparel, a San Francisco-based retailer, is a great example of a company that garnered attention and traction based on the unique design of its locations. Made out of shipping containers, and featuring conveyer belts that move the clothing throughout the store, the
bizarre design
gained the brand plenty of media coverage, helping to spread the word about the new development. Aether Apparel cleverly accompanied the opening of the store with a video to help promote the location, helping to boost its theme retail strategy.
Retail is a rapidly changing industry. To keep on the cutting edge of these developments and more, check out Trend Hunter's >Business Trend Report.